Actress Betty Barry, wife of actor Gene Barry, dies

January 31, 2003


LOS ANGELES (AP) Betty Barry, who appeared on Broadway in "The Grass is Green" with Ethel Barrymore in 1944 and was married to actor Gene Barry, has died at 79.

Mrs. Barry, who had been in poor health recently, died Friday at Midway Hospital in Los Angeles, Gene Barry's publicist Gene Schwam said Monday.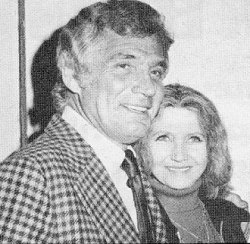 The couple, who celebrated their 58th wedding anniversary in October, met in New York while both were appearing on Broadway.

Mrs. Barry, who was born Betty Claire Kalb, was in "The Grass is Green," while her future husband co-starred with Mae West in "Catherine the Great."

The Barrys starred together in several national touring stage productions, including "Fiddler on the Roof."

Gene Barry was a frequent guest star on such 1970s television shows as "The Love Boat," "Fantasy Island," and "Charlie's Angels."

Besides her 81-year-old husband, she is survived by sons Michael and James, adopted daughter Liza and grandchildren Joshua, Jessica and Taylor.

Funeral services will be Friday at Hillside Memorial Park in Los Angeles.