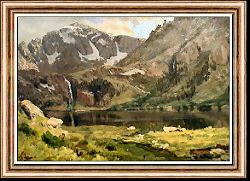 In June 2010, I received this email:

"In trying to improve the Wikipedia page on Mount Evans, I found something interesting.

Bierstadt's painting Mountain Lake (undated) (19x14 in) which you have on Wall 19 of your gallery, can be dated. Morever, I believe I've found a nice description of the painting of it.

See:
http://books.google.com/books?id=4fMOAAAAYAAJ&pg=PA238-IA5
William Newton Byers, Bierstadt's Visit to Colorado
-- Sketching for the famous painting "Storm in the Rocky Mountains" Magazine of Western History, Vol. XI, No. 3, Jan. 1890, page 237

I am convinced that this is the sketch that Byers described Bierstadt painting from the Chicago Lakes. This means it was painted in 1863 and took 45 minutes to complete.

The positive identification of the scene is remarkably easy. Compare it with William Henry Jackson's photo of the same scene, taken 10 years later: http://libraryphoto.cr.usgs.gov/htmllib/btch158/btch158j/btch158z/jwh01435.jpg
Chicago Lakes, Mount Rosalie. Clear Creek County, Colorado, 1873

Bierstadt slightly exaggerated the vertical scale in his painting but the details of the topography and snow patches on the face of the mountain make it obvious it is the same location.

The central peak is Mount Spalding, the lake in the foreground is lower Chicago Lake, the cirque in the background holds upper Chicago Lake, and the peak of Mount Rosalie (now Mount Evans) is in the left distant background of Jackson's photo, just barely showing above thew col between the Chicago Lakes and Summit Lake. It is not included in Bierstadt's painting.

I was motivated to go hunting for all this detail because when I first saw Bierstadt's sketch, I immediately recognized the place, even though I hadn't been there since the late 1960's. It would be fun to pin down the locations of Bierstadt's other field sketches!

Doug Jones
jones@cs.uiowa.edu"