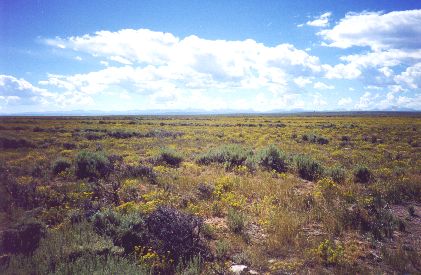 Photograph: Steve Berlin
# 1 Made about nine miles SW of Fort Bridger, WY, 8/23/97.
There is a spare beauty to the Wyoming landscape along this part of the trail as can be appreciated in this view from Bigelow Bench, south toward the Uintah Mountains in Utah.
[ Return to Field Trip Exhibition ]
[ Return to Gallery ] [ Crossroads Home ]
Photographs may not be used without permission of their copyright owners.
Original content copyright © 1997-2001 by
Utah Crossroads Chapter, Oregon-California Trails Association. All rights reserved.
Site design by Steven L. Berlin
E-mail regarding this site: Utah Crossroads Webmaster
Revised: 10/25/04