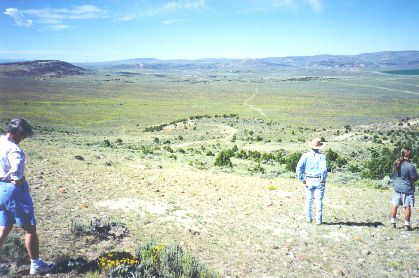 Photograph: Steve Berlin
# 2 Made about ten miles SW of Fort Bridger, WY, 8/23/97.
View from Bigelow Bench looking a little south of west. After climbing up from Fort Bridger onto the bench the trail traverses several miles of largely flatland before descending from this point to Muddy Creek, several miles beyond. This was a very steep descent and over time, required considerable road building to make the trail relatively safe, as well as useful for travel in both directions. The track crossing the grass and sagebrush plain to the right of center is the trail. It has seen considerable use this year by folks recreating the handcart experience. The Muddy lies in the distance where a few dark trees can barely be seen just above the plain. The stream flows left to right (south to north).
[ Return to Field Trip Exhibition ]
[ Return to Gallery ] [ Crossroads Home ]
Photographs may not be used without permission of their copyright owners.
Original content copyright © 1997-2001 by
Utah Crossroads Chapter, Oregon-California Trails Association. All rights reserved.
Site design by Steven L. Berlin
E-mail regarding this site: Utah Crossroads Webmaster
Revised: 10/25/04