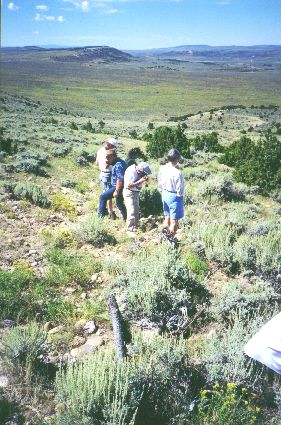 Photograph: Steve Berlin
# 3 Made about ten miles SW of Fort Bridger, WY, 8/23/97.
Another view of the descent from Bigelow Bench toward the Muddy. This gravel hill, strewn with large cobblestones, was the cause of considerable comment by travelers. Among these, William Clayton wrote on July 9, 1847:
"The descent from this hill is the steepest and most difficult we have ever met with, being long and almost perpendicular."
Richard F. Burton in The City of the Saints, pp.99, who passed this way by stagecoach on August 24, 1860 commented:
"After passing the Mormons we came upon a descent which appeared little removed from an angle of 35 degrees, and suggested the propriety of walking down. There was an attempt at a zigzag, and for the benefit of the wagons, a rough wall of stones had been run along the sharper corners."
Rocks piled on the downhill side of the track to level and smooth it are still quite obvious and give the appearance of a dugway. Fine artifacts of trail use remain here with abundant rustmarks from wagon tires and draft animals' iron shoes.
[ Return to Field Trip Exhibition ]
[ Return to Gallery ] [ Crossroads Home ]
Photographs may not be used without permission of their copyright owners.
Original content copyright © 1997-2001 by
Utah Crossroads Chapter, Oregon-California Trails Association. All rights reserved.
Site design by Steven L. Berlin
E-mail regarding this site: Utah Crossroads Webmaster
Revised: 10/25/04