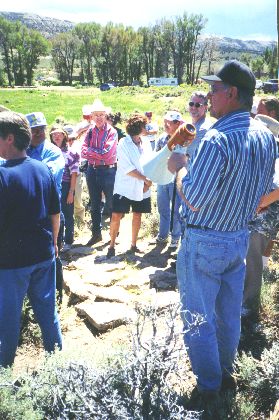 Photograph: Steve Berlin
Made 8/23/97 at Muddy Creek, WY.
After lunch we move 1/4 mile upstream and John Eldredge, field trip guide, takes us to visit the grave of Peter Andersen Fjeldsted in the vicinity of Brigham Young's camp and later, a Pony Express station. The grave was discovered several years ago by John and a friend and fellow OCTA member Jerry Petersen.
We were reminded that along the 1100 mile length of the Mormon Trail nearly 7,000 Mormons died - about 6 for every mile of trail.
A Carsonite marker and the foundation stones of the Pony Express station are nearby.
[ Return to Field Trip Exhibition ]
[ Return to Gallery ] [ Crossroads Home ]
Photographs may not be used without permission of their copyright owners.
Original content copyright © 1997-2001 by
Utah Crossroads Chapter, Oregon-California Trails Association. All rights reserved.
Site design by Steven L. Berlin
E-mail regarding this site: Utah Crossroads Webmaster
Revised: 10/25/04