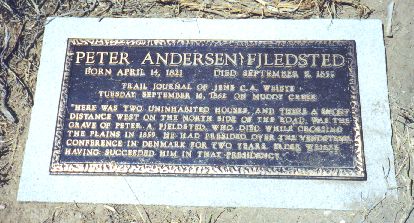 Photograph: Steve Berlin
Made 8/23/97 at Muddy Creek, WY.
The marker reads:
PETER ANDERSEN FJLEDSTED
BORN APRIL 14, 1821 DIED SEPTEMBER 9, 1859
TRAIL JOURNAL OF JENS C.A. WEIBYE
TUESDAY, SEPTEMBER 16, 1862 ON MUDDY CREEK
"HERE WAS TWO UNINHABITED HOUSES, AND THERE A SHORT DISTANCE WEST ON THE NORTH SIDE OF THE ROAD, WAS THE GRAVE OF PETER A. FJELDSTED, WHO DIED WHILE CROSSING THE PLAINS IN 1859. HE HAD PRESIDED OVER THE VENDSYSSEL CONFERENCE IN DENMARK FOR TWO YEARS. ELDER WEIBYE HAVING SUCCEEDED HIM IN THAT PRESIDENCY."
The correct spelling of the name is Fjeldsted.
[ Return to Field Trip Exhibition ]
[ Return to Gallery ] [ Crossroads Home ]
Photographs may not be used without permission of their copyright owners.
Original content copyright © 1997-2001 by
Utah Crossroads Chapter, Oregon-California Trails Association. All rights reserved.
Site design by Steven L. Berlin
E-mail regarding this site: Utah Crossroads Webmaster
Revised: 10/25/04