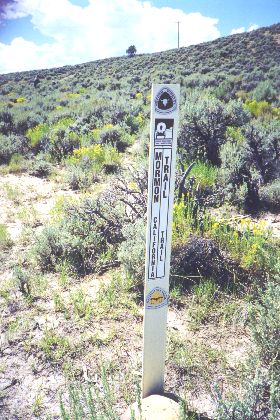 Photograph: Steve Berlin
Made 8/23/97 at Muddy Creek, WY, about 13 miles SW of Fort Bridger.
Carsonite (a manufacturer's trade name) markers are made from a durable, reinforced plastic material that is flexible, resists weather and may even survive the irresponsible target practice of unscrupulous shooters. Trail identification and marking is a major goal of the Oregon-California Trails Association and Utah Crossroads members, especially Al Mulder, have carefully placed nearly 200 Carsonite markers exactly along the California and Mormon Trail routes in Nevada, Utah and Wyoming. This Carsonite marker is just a few steps from the Fjeldsted grave.
[ Return to Field Trip Exhibition ]
[ Return to Gallery ] [ Crossroads Home ]
Photographs may not be used without permission of their copyright owners.
Original content copyright © 1997-2001 by
Utah Crossroads Chapter, Oregon-California Trails Association. All rights reserved.
Site design by Steven L. Berlin
E-mail regarding this site: Utah Crossroads Webmaster
Revised: 10/25/04