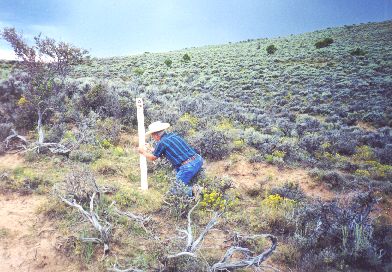 Photograph: Steve Berlin
Made 8/2397 near Muddy Creek, WY.
Carsonite markers appear to exert an irresistible attractive force on Al Mulder, who stopped at each one we passed in order to add decals indicating California Trail, Mormon Trail and where appropriate, Pony Express Trail.
[ Return to Field Trip Exhibition ]
[ Return to Gallery ] [ Crossroads Home ]
Photographs may not be used without permission of their copyright owners.
Original content copyright © 1997-2001 by
Utah Crossroads Chapter, Oregon-California Trails Association. All rights reserved.
Site design by Steven L. Berlin
E-mail regarding this site: Utah Crossroads Webmaster
Revised: 10/25/04