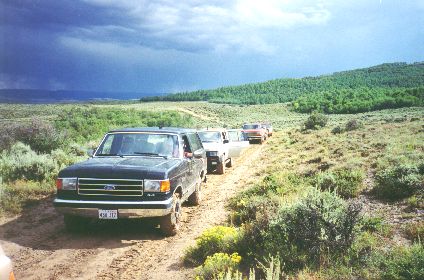 Photograph: Steve Berlin
Made 8/2397 near Quaking Aspen Ridge, WY.
The field trip caravan consisted of about 15 four-wheel-drive vehicles, most carrying several members. Here we are seen on Quaking Aspen Ridge near the place where the trail veers off the ridge, climbs a little more and starts a steep descent. A sprinkle of rain has made the road slick. The view from the high ridge is beautiful and vast in all directions. This route was used by, among others, Brigham Young.
"About 3 o'clock we resumed our journey starting up the valley; we passed over a small hill, and then ascended the dividing ridge by a zigzag road. A she bear and two cubs were seen by Brother Cloward going (up) a high hill on our left hand. We descended by two steep pitches, almost perpendicular, which on looking back from the bottom looks like jumping off the roof of a house to the middle story and then from the middle story to the ground. Thank God no accident happened." (They had locked their wheels for over 1/2 mile)

- Thomas Bullock journal of July 10, 1847
[ Return to Field Trip Exhibition ]
[ Return to Gallery ] [ Crossroads Home ]
Photographs may not be used without permission of their copyright owners.
Original content copyright © 1997-2001 by
Utah Crossroads Chapter, Oregon-California Trails Association. All rights reserved.
Site design by Steven L. Berlin
E-mail regarding this site: Utah Crossroads Webmaster
Revised: 10/25/04