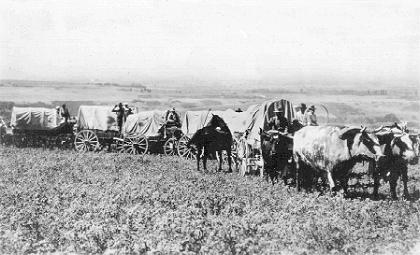 Used by permission, Utah State Historical Society, all rights reserved
Photograph: Salt Lake Tribune
Made July 2_, 1897 near mouth of Emigration Canyon, Salt Lake City, Utah.
Wagons stop, perhaps for the camera. This view is also looking generally south from the bench north of Emigration Canyon. The undeveloped land in the distance, on the south side of Emigration Creek, is now home to thousands.
[ Return to Mormon Trail Wagon Train Exhibition ]
[ Return to Gallery ] [ Crossroads Home ]
Photographs may not be used without permission of their copyright owners.
Original content copyright © 1997-2001 by
Utah Crossroads Chapter, Oregon-California Trails Association. All rights reserved.
Site design by Steven L. Berlin
E-mail regarding this site: Utah Crossroads Webmaster
Revised: 10/25/04