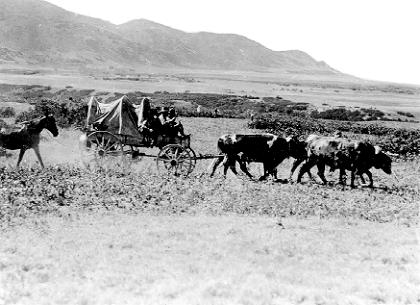 Used by permission, Utah State Historical Society, all rights reserved
Photograph: Salt Lake Tribune
Made July 2_, 1897 near mouth of Emigration Canyon, Salt Lake City, Utah.
Two yokes of oxen were used on the trek whenever possible but cattle-poor Mormons made do with fewer draft animals than most emigrants on the Oregon-California-Mormon Trail. This view is another looking generally south from the bench north of Emigration Canyon.
[ Return to Mormon Trail Wagon Train Exhibition ]
[ Return to Gallery ] [ Crossroads Home ]
Photographs may not be used without permission of their copyright owners.
Original content copyright © 1997-2001 by
Utah Crossroads Chapter, Oregon-California Trails Association. All rights reserved.
Site design by Steven L. Berlin
E-mail regarding this site: Utah Crossroads Webmaster
Revised: 10/25/04