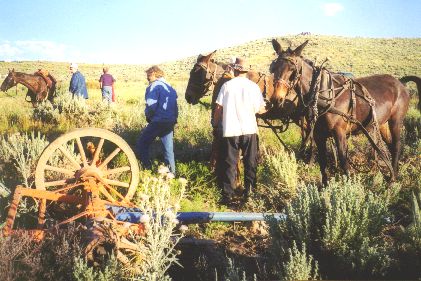 Photograph: Steve Berlin
Made July 22, 1997 just north of East Canyon Reservoir, East Canyon, Utah.
When apparently the weight of the wagon they were hitched to overcame this pair of mules on a steep hill, they began to run downhill at top speed spilling the driver, who broke his arm and crashing the wagon box into the hill slightly injuring the passengers. Having broken off the front wheels, axle and tongue the team continued to run until the animals went down in the brush and rocks. Once freed from the wreckage, the mules jumped to their feet, appeared unhurt and and stood quietly. The accident was videotaped by the many domestic and international crews covering the last few days of the trek and the dramatic footage aired around the world.
[ Return to Mormon Trail Wagon Train Exhibition ]
[ Return to Gallery ] [ Crossroads Home ]
Photographs may not be used without permission of their copyright owners.
Original content copyright © 1997-2001 by
Utah Crossroads Chapter, Oregon-California Trails Association. All rights reserved.
Site design by Steven L. Berlin
E-mail regarding this site: Utah Crossroads Webmaster
Revised: 10/25/04