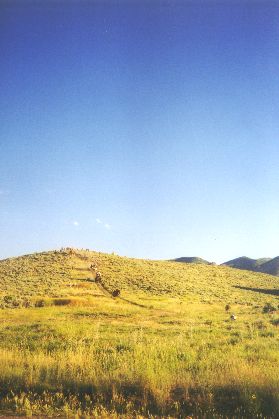 Photograph: Steve Berlin
Made July 22, 1997 just north of East Canyon Reservoir, East Canyon, Utah.
This steep hill leads directly off the high flat where the company had camped the night and onto the highway which would be used to skirt East Canyon Reservoir. The handcart company had some trouble on the hill holding back their heavy conveyances but all made the descent without incident. Not so the wagons. After one narrowly-averted runaway and finally the out-of-control bolt of a mule-drawn wagon, which resulted in minor injuries to its driver and occupants and the destruction of the wagon, this route was abandoned. The remainder of the company took a longer but more gentle route to the highway.
[ Return to Mormon Trail Wagon Train Exhibition ]
[ Return to Gallery ] [ Crossroads Home ]
Photographs may not be used without permission of their copyright owners.
Original content copyright © 1997-2001 by
Utah Crossroads Chapter, Oregon-California Trails Association. All rights reserved.
Site design by Steven L. Berlin
E-mail regarding this site: Utah Crossroads Webmaster
Revised: 10/25/04