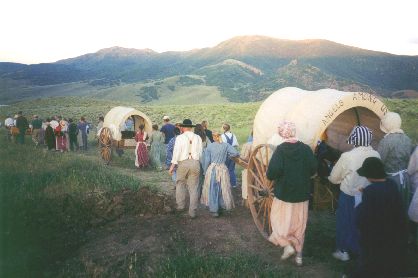 Photograph: Steve Berlin
Made July 22, 1997 just north of East Canyon Reservoir, East Canyon, Utah.
As dawn breaks across the Wasatch Range and the morning sun's first rays touch the mountain tops, the handcart company is on its way. First comes the long, steep pull to the top of Big Mountain and in the afternoon, the hot climb up Little Mountain where they will camp for the night.
[ Return to Mormon Trail Wagon Train Exhibition ]
[ Return to Gallery ] [ Crossroads Home ]
Photographs may not be used without permission of their copyright owners.
Original content copyright © 1997-2001 by
Utah Crossroads Chapter, Oregon-California Trails Association. All rights reserved.
Site design by Steven L. Berlin
E-mail regarding this site: Utah Crossroads Webmaster
Revised: 10/25/04