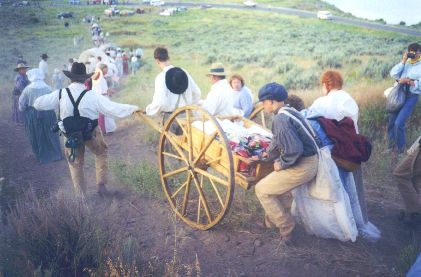 Photograph: Steve Berlin
Made July 20, 1997 on a hill just north of East Canyon reservoir, East Canyon, Utah.
This handcart was made in Russia, pulled across Siberia and Ukraine and flown from Moscow to Salt Lake City for the final leg of the trek. It bears gifts made by members of the LDS Church in several Slavic countries for the church president. East Canyon Reservoir is seen in the upper right.
[ Return to Mormon Trail Wagon Train Exhibition ]
[ Return to Gallery ] [ Crossroads Home ]
Photographs may not be used without permission of their copyright owners.
Original content copyright © 1997-2001 by
Utah Crossroads Chapter, Oregon-California Trails Association. All rights reserved.
Site design by Steven L. Berlin
E-mail regarding this site: Utah Crossroads Webmaster
Revised: 10/25/04