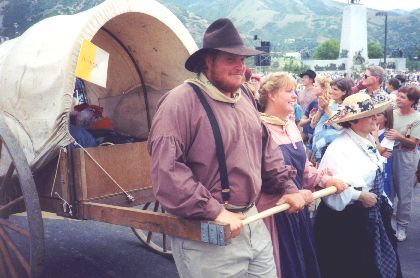 Photograph: Steve Berlin
Made July 24, 1997 at This is the Place State Park, Salt Lake City, Utah.
This happy man has come through all the way from Winter Quarters, Nebraska, more than 1,000 miles. With the This Is The Place Monument over his shoulder he has heard the last of the speeches, songs and tributes, but not yet the final cheers and accolades of the vast and admiring crowd as he pulls his cart the final few feet to the last camp.
[ Return to Mormon Trail Wagon Train Exhibition ]
[ Return to Gallery ] [ Crossroads Home ]
Photographs may not be used without permission of their copyright owners.
Original content copyright © 1997-2001 by
Utah Crossroads Chapter, Oregon-California Trails Association. All rights reserved.
Site design by Steven L. Berlin
E-mail regarding this site: Utah Crossroads Webmaster
Revised: 10/25/04