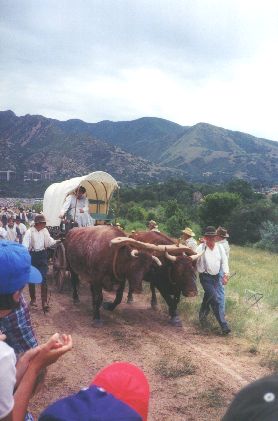 Photograph: Steve Berlin
Made July 24, 1997 at This is the Place State Park, Salt Lake City, Utah.
Wagon and team of oxen enter Salt Lake Valley. Although ox teams were the most common draft animals on the trail in pioneer times, none made the entire trip in the reenactment company.
[ Return to Mormon Trail Wagon Train Exhibition ]
[ Return to Gallery ] [ Crossroads Home ]
Photographs may not be used without permission of their copyright owners.
Original content copyright © 1997-2001 by
Utah Crossroads Chapter, Oregon-California Trails Association. All rights reserved.
Site design by Steven L. Berlin
E-mail regarding this site: Utah Crossroads Webmaster
Revised: 10/25/04