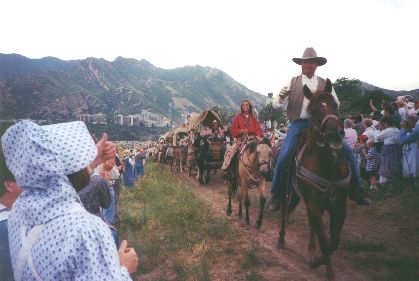 Photograph: Steve Berlin
Made July 24, 1997 at This is the Place State Park, Salt Lake City, Utah.
A throng of more than 50,000 cheering, enthusiastic greeters welcomed the re-enactment company as it entered the Salt Lake Valley after nearly 100 days travel over 1100 miles along the Mormon Trail from Winter Quarters, Nebraska to Salt Lake City.
[ Return to Mormon Trail Wagon Train Exhibition ]
[ Return to Gallery ] [ Crossroads Home ]
Photographs may not be used without permission of their copyright owners.
Original content copyright © 1997-2001 by
Utah Crossroads Chapter, Oregon-California Trails Association. All rights reserved.
Site design by Steven L. Berlin
E-mail regarding this site: Utah Crossroads Webmaster
Revised: 10/25/04