ANSON CALL;
Excerpts from his Autobiography
Anson Call is my wife's great, great, grandfather. He moved to George County Ohio when he was seven years old. In his small autobiography he states, "I was sent to school in early life but after removing to Ohio there were but little opportunities for schools owing to the newness of country." (Call, Anson, "Autobiography of Anson Call", p. 1)
Anson's father raised a large family of fourteen children. Anson's brothers and sisters were Harvey, Anson, Salomon, Samantha, Fanny, Lucina, Josiah, Mary, Lavora, Rosaline, Sarah, Mallissa, Omer, and Homer. Anson married, on October 3, 1833, in Madison, Ohio to Marry Flint. Marry had been born on March 27th, 1812. She was the youngest in her family. "In consequence of our joining the Latter Day Saints previous to his, Arson's father-in-law's, death he altered his will, (a farm) and Hannah, Arson's sister-in-law, and Marry (Arson's wife) and Anson were all disinherited." (Call, p. 2) Anson's first son was Anson Vasco Call, born July 9, 1834. Mary Vashti was born March 27, 1836. The autobiography contains Anson's conversion story from his personal journal:
Their preaching created much excitement in our town but had little effect for nearly three years. I[t] (sp?) was a constant annoyance to my feelings. I became dissatisfied with all denominations and myself. In the Elders passing through our country they frequently stopped at my house, and in discussing with them upon the principles of the gospel they would cuff me about like an old pair of boots. I came to the conclusion that the reason of my being handled so easy was because I did not understand the Bible and the Book of Mormon. I resolved to prepare myself for the conflict by investigating the two books. I accordingly furnished myself with the Book of Mormon. I then commenced the Book of Mormon and the Bible. Compared the two and read my Bible from Genesis right through, praying and searching diligently for six months. When I finished the two books I became a firm believer in the Book of Mormon. I was then taught by the Spirit to obey the principles of the gospel. My feelings were not known by any but my wife. I was proud and haughty and to obey the gospel was worse than death. I labored under those feelings for three months, becoming at times almost insane. To be called a Mormon, I thought, was more than I could endure. I lamented that my lot was cast in this dispensation. My dreams and my meditations made me miserable. I at last covenanted before the Lord that if he would give me confidence to face the world in Mormonism I would be baptized for the remission of my sins; before I arose from my knees the horrors of my mind were cleared; I feared no man, no set of men. The next day I went to the Methodist meeting and declared unto them the truth of Mormonism. I told them I should obey it as soon as I could get to Kirtland. I accordingly went immediately there and was baptized by William Smith, Joseph's brother. My wife accompanied me. I was confirmed in the Kirtland Temple by David Whitmer . . . After moving to Kirtland I was ordained to the Quorum of Seventies in February, 1836 by Zera Pulsipher and Henry Herriman. (Call, pp. 2-3)
Face the world in Mormonism is exactly what he did. He returned after his baptism and preached in the Methodist church on every occasion possible. Within a few months he had raised a branch of twenty members. The next event in Anson's life starts out quite normal for an early Latter Day Saint. He sold a part of his farm and removed to Kirtland. He remained there until he received general orders to go to Missouri. While in route to Missouri he again faced up to the fact of being a Mormon. In conversation with Colonel Wilson of Jackson county who had been bragging of driving out the Mormons, told them not to go to far west because he was going to drive the Mormons out there too, (as he did), on a steam boat Anson replied that if you will stop a moment or two I will tell you the way it can be done, (stopping Joe Smiths career) for there, is but one way of accomplishing it. "What is that, Sir?" Wilson said. Anson answered, "Dethrone the almighty and Joe's career is ended and never until then." Shortly after this incident Anson recorded something in his journal that he almost forgot.
I have forgotten to say that shortly after I joined the Church I was administered to for my stammering of speech from which I was reviened (sp?). (Call, p. 5)
Anson faced more persecution as the Mormons were driven out of Missouri. It is interesting to note Anson's acquaintance with the prophet and others.
In the month of September, I received a visit (at Anson's farm on the three fork of the Grand River near Far West) from Joseph, Hyrum and Sidney Rigdon. Joseph Stated that he had come to visit us on a special errand. It was on the Sabbath; the day of his arrival, the brethren were congregated at my house for the purpose of meeting in connection with a number of Missourians. After the meeting was out he told me he wished to see the brethren together, on which he availed himself of the opportunity of slipping off into the cornfield with about twelve of the brethren. He then stated to us we must leave, for there was going to be difficulties. We inquired of him from what source. He said it was not for him to say, the message he had received was for us to leave and go to Far West or Adam Ondi Ahman. We Unanimously agreed to do so. We then inquired whether it was necessary for us to go forthwith or whether we could stay and save our crops and sell our farms. He said you need not sell your farms and he presumed we should have time to get away, but how much time he knew not. They then left us after the dinner. (Call, pp. 6-7)

After receiving this information, rather then preparing to move, "we decided we could take a spree at bee hunting..." (Call, p. 7)
Next Anson finds himself and his family as recipients of persecution.
We found the whole country in arms on our return from bee hunting, betwixt us and Di Aham and Far West. Neal Gwilham had a company of mobers placed to prevent the Mormons from going to and from either place. We were watched day and night to see that we did not leave the county. They sought to kill Phineas Young. He hid himself in a band of corn stalks. I carried him food and water for four days, and I've become uneasy and dissatisfied with our situation . . . After dark I placed a wagon and four horse teams before my door. Phineas Young and wife, Jackson and wife, my wife and her sister loaded a portion of their clothing and bedding in the wagon. . . Previous to our starting, two Missourians came and said they would show us the devil before we got far. We left most of our property with exception of our clothing, upon the farm. The night being dark we took a route that the mob did not calculate we would, so they did not find us. Next day at 12 o'clock we arrived safe at Di Ahman . . . After supper we were all called together at general orders and received instructions from Lyman Wight and Reynolds Cahoon . . . The General gave me a passport to Far West that we night travel and not be killed, too: I permit Anson Call to remove to Far West and from thence out of the state, signed General Parks. (Call, pp. 7-10)
Before they were able to travel to Di Ahman Anson faced death by a Missourian, and his family faced death by the weather.
While tarring at Di Ahman, two of the guards came to the tree top where I and my family were sitting, eating our dinner and asked me some questions. He said I was a damned liar and said he would shoot me. He cocked his gun and put it to my face. My family screamed and he lowered his gun and rode off. The second night after the surrender the snow fell about six inches deep. My children nearly froze to death. One of them froze his finger so that he lost part of his nail. After riding to Far West the weather continued severely cold so that many of the mob were obliged to leave. They killed our cattle, stole our horses, burned our houses, constantly killing and abusing all that they met with, insulted our women, and murdered some of our children.

We were not permitted to leave for Far West only to get our firewood. We had not the privilege of hunting our cattle and horses, yet we were told that we had immediately to leave the state. We were deprived of holding meetings of any kind. Joseph Smith Senior and Brigham Young were our principle counselors. We received two or three epistles from Joseph, who was at the time in Liberty Jail, Clay County. Some few times in the course of the winter we slyly congregated our selves in a schoolhouse about two miles from Far West to receive instructions from Joseph and others. (Call, p. 10)

The next day I was taken by ten men and an old negro. They took me into the back part of a store, ordered me to disarm myself. I told them I had no arms about my person. They said I --as was a damn liar for the Mormons always carried arms. They ordered me to take the things out of my pockets and lay them in a chair. I refused. They threatened me and flourished their knives about me and said if I did not do it they would take my life. I accordingly removed everything out of my pockets. Turn your pockets wrong side out. I did so they then ordered me to put my things back into my pockets. I accordingly did so. They then told me to draw my coat. I did it. They then said, He carries his arms at his back, and they examined me until they became satisfied I had no arms about me. They then commenced tantalizing and saying I was a damned Mormon and was in the Bogard Battle. Each of them had a rifle which they set against the house. They sat themselves down and went to whittling with butcher knives. One of them by the name of James Ogle said, that he had suffered by the Mormons and that I had to atone for it. He said they had felt my back and they would see it bare before morning and I would feel kickory [(sp?) hickory] upon it. He then commenced beating me with a flat hand in the face. He then said he would not abuse a man that was not armed. He threw his butcher knife at my feet and told me to pick it up and fight. I told him I did not wish to fight. He said I had got to fight or die. He then picked up the knife and put it into my hand and told me to take it. I discovered all the rest of them had their hands. I refused to take it and leaned up against the side of the house. I then said in my heart, "Oh Lord, preserve me or they will take my life." I immediately became satisfied that I would be delivered from their hands. [missing sentance (sp)?)] He thrust a knife within an inch of my breast and said he would rip my guts out. He then struck me repeatedly between my eyes with the back of his knife. He tantalized me in this manner for over two hours, and struck me in the face with the back of the knife and his falt [(sp?) flat] hand about fifty times. He said that it is getting near night and we must make a finish of the business.

They took me into the street and said they would serve me as they served a Mormon the other day, strip me and tie me to a hickory and leave me till morning. While they were making arrangements to accomplish the deed a grocery keeper stood looking out of the window at us. I told him I wanted a bottle of liquor, for I wished to treat the company, on which he handed me a bottle and tumbler through the window. We were arranged in double file. I stood in front between the two forward men. I stepped a step or two out of rank and took the bottle. I drank then [(sp?) them] a toast and told them they were men after my own heart, the bravest set of men I had ever met with and before we went any further with the business I was going to drink with them and wished them to be merry, for tomorrow is Christmas and we must prepare ourselves for it. I handed the bottle to my right-hand man who fired off his gun and set it up against the grocery store and took the bottle. Every man set his gun up against the grocery also. He then poured the liquor into the tumbler and I discovered every mans eyes were fixed on it. I then sprang into the hazel brush which was within three or four rods of where we stood. (This was a little town situated in Roy County called Fendericksburg, a new place just commenced in the woods; it was surrounded with the hazel and hickory brush). They then pursued me and hollered, "Catch him, damn him, catch him." I squatted in the brush and they passed by me. They went one way and I went another. My legs served me well for five miles and probably saved my back from being severely lacerated. (Call, pp. 10-12)
Anson traveled back towards Far West, stopping at a farm house of a neighbor who fed him supper. He slept next to the back door so that he could escape through the corn field if the mobers were pursuing him. The nice lady made him breakfast. The next journal entry is brief but filled with pathos.
About 11 o'clock I reached home Christmas day. My wife then prepared me a dinner of parched corn. She said that in consequence of my absence we had missed our turn of grinding in the horse mill. Nothing further happened during the day worth mentioning. (Call, p. 13)

What to do I knew not. I had to leave the state soon and my animals were all gone but one . . . I then counseled with Joseph Smith and Brigham Young concerning my going to the three forks of the Grand River to try to obtain some property there so I could leave the state. They gave it as their opinion that I had better not go for I would probably fare worse than I did in Ray County. (Call, pp. 13-14)
Anson did not take the advice and returned to reclaim his land from George Washington O'Neil and Mr. Culp. They were not at his home but were visiting a neighbor. The following is penned in Anson's journal.
O' Neil and wife came into the house while we were conversing... They said I had no business in that country and if I got away alive I should be damned smart. I told them there was time enough to be afraid when I saw danger and that I considered myself a white man and went and came as I pleased. They said they would as soon kill me as kill a dog and there would be no more notice taken of it. This I very well understood. They told me they supposed I had come to get my property. I told them I had. They told me there was none for me. After repeated threatenings I became satisfied that it was in vain to think of obtaining anything. I started for my horse ... O'Neil picked up the end of a hoop pole. He then struck me upon the head and nearly brought me to the ground. I looked for a club but there was none in sight. He repeated the blows and my having on my head a thick woolen cloth cap saved my skull. Mrs. Day threw the door open and hollered, murder' The knife that hung by his side deterred me from clutching him. I started for the door. He then hit me in the face and repeated the blows two or three times before I reached it... I clenched the door post when he gave me a blow over the eye. The scar of which I carry to this day. I sprang into the house and clutched the fire shovel. Mrs. Day shut the door that I should neither go out nor they come in. They then ran passed the window. She said, 'they have gone after their guns,' on which I mounted my horse and started for Far West as fast as I could consistently ride. My head and face soon commenced swelling on which I washed them and made up my mind that I would not let anybody know what had happened to me from the fact that Father Smith and Brigham had told me not to go.

I arrived home about 11 o'clock at night and went to bed without making a light in the house. I thought I would not let my wife know what had happened to me. In the morning I sprung out of bed and I instantly found myself lying on the floor on the other side of the house. My wife screamed and wanted to know what was the matter. I then returned to bed and found myself under the necessity of telling her what had happened, but sought to keep it from my family. Father Smith soon found it out and came to see me, telling me it would do me good but he was glad they didn't kill me. In a few days I was around and attending to my business. (Call, pp. 14-15)
Anson next relates an incident where Lyman Cowdery, William Mclellin and others that Anso refered to as apostates try to get Anson to testify in court against Joseph Smith. If he doesn't, they threaten to send him to the penitentiary.
On the 15th of January, Lyman Cowdery came to my house and inquired after me, telling my wife he wished to see me that evening and he should like to meet me at W. W. Phelps. I accordingly met with him there and David Whitmer, William McLellin, Burr Riggsand (Riggs and) a number of other apostates. Mr. Cowdery stated that he had come from the Ohio to see me on some special business. He said that I had taken his brother Oliver and David with a warrant for stealing my goods some where betwixt Wellsville on the Ohio River and that place and that he had come to settle with me. He said he knew the cause of my taking them was because Joe had told me to and I was not particularly to blame. W. W. Phelps frequently remarked in the conversation "damned tall oath" and other similar expressions. Cowdery said he had been acquainted with me a number of years in the Ohio and he did not consider that I was to blame, for I had to do as Joe told me, but he is now where he will not lead anybody into difficulty again. Justice will soon overtake him. And now, Anson, you are young, inexperienced in law, and I am sorry to find you in this fix. This has caused my brother and Mr. Whitmer much difficulty. You swore to that which is not true; the goods you swore were yours. I have a bill in my pocket of the purchase of them in Cincinnati. Notwithstanding all this, I feel disposed to show you levity. I will propose two ways of settling this; you can take your choice. I sympathize much with you. In the first place I will show you the law upon this point. A crime of this kind would be punished by imprisonment in the penitentiary, not less than three years and the payment of all damages sustained which would not be less than two thousand dollars. This is what you are subject to. Now I will

propose another way. If you will go to the court with me at Richmond tomorrow and state that you did this because Joe told you so, that will then settle the matter and let the blame rest where it ought to. He then asked me if I had made up my mind which to do. I told him that I had. I then arose and told him that I was prepared to prove what I had sworn to by Vincin Knight, who help me select the goods from a store in the Ohio, and I should have done it at the sitting of the Court at Liberty if a Mormon had been permitted to have been there., and I wished him to understand that when I took an oath that I only was responsible and he might take the course that he thought proper. I then left the room and have not heard from him since. (Autobiography of Anson Call pp. 16, 17.)
Shortly after this a mare that was taken from Anson by the mob, returned home to Anson's great surprise, which completed a team of horses. About the middle of February he took up a march for Illinois. The weather was cold and severe, with snow to the depth of one foot. The first night his wagon tipped over into the creek. The second day he had to cross a long prairie and they were not able to reach the settlement. It was a very cold and blustering night. He raised the wagon tongue, put some clothes over it, placing their beds underneath. They arrived at their destination the 25th of April.

Almost the last journal entry that Anson makes shows his love and his respect for Joseph Smith by as indicated by the following:
About the middle of May I was one day traveling to Warsaw when to my great surprise I met Brothers Joseph and Hyrum. I asked him when and how he had made his escape from Missouri. He said, 'I am in a great hurry, for my enemies are pursuing me...I will say in short to you, the prayers of the brethren brought me her" He then inquired of me where I lived. He said, 'in about a week I will be at your house; then I will relate the whole matter to you.' He passed on in great haste. I was filled with great joy to see our prophet after more than six months. Suffering by chains and dungeons once more in the enjoyment of liberty.

He came to my house about the appointed time, had his dinner and spent the principle part of the afternoon in conversation. Hyrum, Sidney Rigdon, and Vincent Knight were with him. He related to some of the circumstances of his escape from Missouri. He also stated that he had purchased a tract of land in Commerce. A place for the saints to gather to, now called Nauvoo. In the course of the summer my wife had a very severe sickness, chills and fever from which she would probably have died had it not been for her being healed by the laying on of hands. Worked for the Carthaginians and supported our families. I preached to them a few times in the court house but they were not very religious and did not wish to inquire much about Mormonism. (Call, pp. 18 & 19.)
Anson moved West with the rest of the saints. He was assigned by Brigham Young to settle Bountiful. He settled down on a 300 acre farm and raised 18 children with the help of four wife's. He was the bishop of the Bountiful Ward. He built the Bountiful First Ward by order of Brigham Young.

One of the most lasting contributions that Anson made, other than his prodigious posterity, are a few tibbits of historical information that he recorded. One of which is the prophecy that Joseph Smith made of the saints moving west.

The "Life Sketch" has the same text as the "Autobiography", but it is written in 2nd person, with the exception of this quote.)
On the 14th of July, 1843, with quite a number of his (Joseph Smith brethren, he (Joe) crossed the Mississippi River to the town of Montrose to be present at the installment of the Masonic lodge of the 'rising sun, A block school house had been prepared with shade in front, under which a barrel of ice water. Judge George Adams was the highest Masonic author in the state of Illinois and had been sent there to organize this lodge He (Joe), Hyrum Smith and J.C. Bennett, being high masons, went into the house to perform some ceremonies which the others were not entitled to witness. These, including Joseph Smith remained under the bowery. Jose] as he was tasting of the cold water, warned the brethren not to be fret with it. With the tumbler still in his hand he prophesied that the Saint would yet go to the Rocky Mountains; and, said he, 'this water tastes much like that of the crystal streams that are running from the snow capped mountains' we will 1st Mr. Call describe (sic) this prophetic scene: I had before seen him in a vision and now saw while he was talking his countenance changed to white: not the deadly white of a bloodless face, but a living brilliant white. He seemed absorbed in gazing at something at a great distance and said, 'I am gazing upon the valleys of those mountains'. This was followed by a vivid description of the scenery of these mountains as I have since become acquainted with it. Pointing to Shadrach Roundy and others, he said, 'There are some men here who shall do a great work in that land.' Pointing to me he said, 'There is Anson, he shall go and shall assist in building cities from one end of that country to the other, and you' rather extending the idea to all those he had spoken of, 'shall perform as great a work as has been done by man, so that the nation of the earth shall be astonished and many of them will be gathered in that land and assist in building cities and temples, and Israel shall he made to rejoiced'.

"It is impossible to represent in words this scene which is still vivid in my mind, of the grandeur of Joseph's appearance, his beautiful descriptions of this land and his wonderful prophetic utterances as they emanated from the glorious inspirations that over shadowed him. There was a force and power in his exclamations of which the following is but a faint echo. 'Oh the beauty of those snow capped mountains. The cool refreshing streams that are running down through theose (sic ?) mountains gorges' Then gazing in another direction, as if there was a change and locality; 'oh the scenes that this people will pass through' The dead that will lay between here and there.' Then turning in another direction as if the scene had again changed: 'Oh the apostasy that will take place before my brethren reach that land'. But he continued, 'the Priesthood shall prevail over all it's enemies, triumph over the devil and be established upon the earth never more to be thrown down.' He then charged us with great force and power, to be faithful in these things that had been and ...???
[Written at bottom of page "THIS CONCLUDES ALL WE HAVE OF THIS COPY", Alice Maud Call Burton Afton, Wyo.] (Life Sketch of Anson Call 1810-1890, Pioneer in the building of the west.)
A rare recollection concerning Joseph Smith's views of the creation of man was years later recorded by Anson Call. This is the text as recorded by document preserver John M. Whitaker
The following statement given by the late Anson Call of Bountiful in the year 1877 to Thomas Wm. Whitaker of Centerville, while he was building the new house in Bountiful for the late Anson Call. I was with my father in the erection of this building, was intimately acquainted with Brother Call, did much for him, took notes from him on early church history, translated the same and later gave personally to President Joseph F. Smith. At the time I gave him Brother Call's statement about closing the store in Nauvoo and other matters, President Joseph F. Smith said to me, 'Johnny, we are very happy to get this very important statement from Brother Anson Call, it clears up some matters that he alone could do, and it completes some historical matters heretofore lacking in the church history. We are delighted to get this statement' At the same time I handed President Joseph F. Smith and his counselors the following statement from the same Anson Call and which he told me I could use as the statement from Anson Call, as I desired.

HOW WAS THE WORLD INHABITED?

The following is a statement of the late Anson Call of Bountiful:

On one occasion when Brother Joseph (Smith) was cutting wood, there came to him some brethren and I was among them. We said, 'Brother Joseph, we have some questions to ask, and we will cut your wood while you answer them' 'all right', said Joseph, and we went into the house. Joseph placed his arms across his knees, bent over as if in meditation, and then said, 'now for your questions.'

We said to him; 'what about the creation of the world; how was it inhabited?' Joseph answered and said; 'I will tell you how it was. You and I were in the spirit world at the grand council, and there we were spirits together. We saw and heard that council, and heard them talk of formation of the world and we were among those when the morning stars sang together and when the sons of God shouted for joy. We were among those who had more courage than others and therefore we came down here and took bodies. Some who did not have the courage said, 'Father, we have fought Satan face to face here in the spirit world and helped to cast him down there and now to go down and fight him again face to face, we are afraid we shall never return to thy presence and would prefer a less degree of glory and go some other of your creations where we are sure of -returning.' 'Yes, you and I had more courage and came down here of our own agency and choice.'

Now regarding Adam: He came here from another planet - an immortalized being and brought his wife, eve, with him, and by eating of the fruits of this earth became subject to death and decay and he became of the earth earthly, was made mortal and subject to death. 12th Ch. Rev. 7 and on.

Now, after we had proven our worthy before God that we were willing to go through temporal sufferings, privations and trials that we did spiritually, we were chosen or elected, and we merited our prize or reward according to the works we did in the spirit world; but we were not chosen or elected until we had shown by our works to our Heavenly Father that we were willing to go through what He might permit us to, and we were not deprived of our agency.

In the Grand Council in heaven there were some spirits that did not take part in the great rebellion at all. They were called neutral spirits: they were on the fence, and when Cain killed his brother Able, God placed a skin of blackness upon him as the first of Adam's race and through the posterity of Ham this seed was propagated through the flood. And the neutral spirits in heaven possess these black bodies. And after the flood no doubt Noah must have found him doing some little low trick for he said: 'cursed, cainaan, a servant of servants shalt thou be to thy brethren.' And those neutral spirits in heaven preferred to take the body of a negro rather than have no body at all.'
('Reflections of John M. Whitaker B.Y.U. Lib. Call # Mar. M270.1 W58r)
---
1. Call, Anson, "Autobiography of Anson Call" pp. 1-19.
2. Burton, Alice Maud Call, "Life Sketch of Anson Call 1810-1890".
3. Whitaker, John M., "Reflections of John M. Whitaker, B.Y.U. Lib. Call # Mor. M270.1 W58r.
4. In March Perry L. Porter and Renee Call Porter went to Bountiful to visit Lyman Call, whose grandfather is Anson Call. We talked with him for several hours that evening and heard many interesting stories. We then proceeded to Anson Call's house and took several pictures of it. They are included with this paper. ( See Appendix I. ) A short genealogy of my wife's ancestors. Her father is Rodney F. Call, His father is Lyman Call, his father was David Call the youngest son of Anson Call, as told to me by Lyman Call who resided in Bountiful, Utah, blocks from Anson's house.
---
APPENDIX I
Bountiful Area Historic Site
Anson Call Home
This home was part of a large complex of older homes, barns, granaries, sheds, gardens and orchards, all belonging to Anson Call, early pioneer and colonizer. It was built about 1861 of sandstone and adobe faced with red brick and was one of the finest of its day. Originally the house was topped by a decorative beehive surrounded by a captain's walk. Later the beehive was replaced by a small room called the "Prayer Room" and was reached by a secret stairway behind a bedroom closet. The home was the gathering place for family and visitors. In 1863 during the dedication of the Bountiful Tabernacle, 150 guests and their horses were cared for in the Anson Call home and complex. The other buildings have long since been torn down, but this structure still stands as a monument to the man who built it.
---
BOUNTIFUL-AREA HISTORIC SITE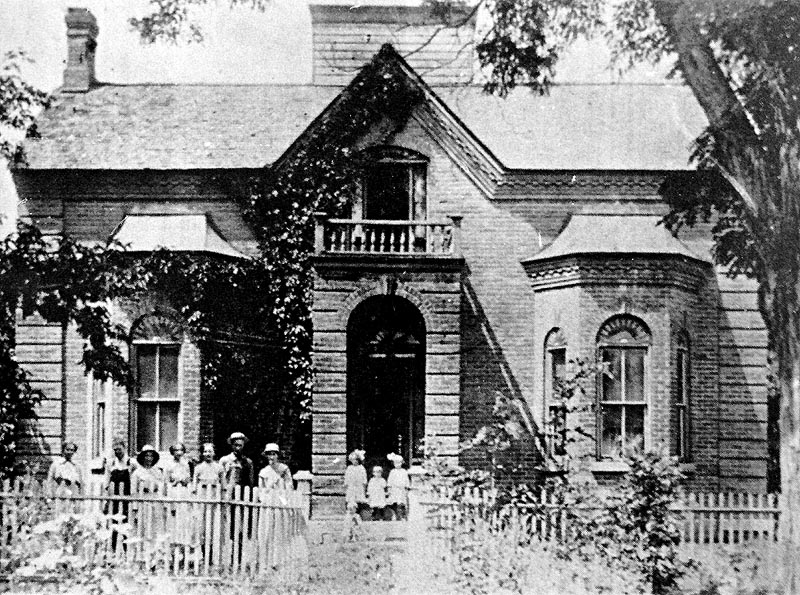 ANSON CALL HOME
This home was a part of a large complex of older homes, barns, granaries, sheds, gardens and orchards, all belonging to Anson Call, early pioneer and colonizer. It was built about 1861 of sandstone and adobe faced with red brick and was one of the finest of its day. Originally the house was topped by a decorative beehive surrounded by a captain's walk. later the beehive was replaced by a small room called the "Prayer Room" and was reached by a secret stairway behind a bedroom closet. The home was the gathering place for family and visitors. In 1863 during the dedication of the Bountiful Tabernacle, 150 guests and their horses were cared for In the Anson Call home and complex. The other buildings have long since been torn down, but this structure still stands as a monument to the man who built it.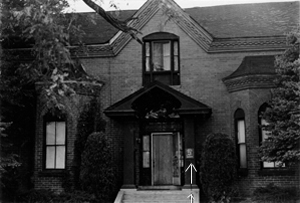 Front view. Note that the 1st photo of the house, comes from the plaque indicated by the arrows on this photo.
Rear view.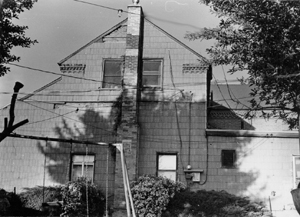 Side view. Photographs taken by Perry L. Porter 5-15-1979


---
From the LDS Vital records:
Call, Anson (Male)
Birth: Call, Anson (Male) Date: May 13, 1810 Place: Fletcher, Franklin, VT, USA
Parents: Call, Anson (Male) Father: Call, Cyril Mother: Tiffany, Sally
Death: Call, Anson (Male) Date: August 31, 1890 Place: Bountiful, Davis, UT, USA
Marriage Information: Call, Anson (Male) Spouse: Flint, Mary Date: October 3, 1833 Place: Madison, OH, USA
Children: Call, Anson (Male)
Name: Birthdate: Place:
1. Call, Anson Vasco July 9, 1834
2. Call, Mary Vashti March 27, 1836
3. Call, Moroni February 6, 1838
4. Call, Chester (twin) May 13, 1841
5. Call, Christopher (twin) May 13, 1841
6. Call, Hyrum December 3, 1845
Marriage Number 2 Call, Anson (Male) Date: April 16, 51 Alternate Date: April 1918 Place: Salt Lake City, Salt Lake, UT, USA
Marriage 2 Children:
Name: Birthdate: Place:
1. Call, Vilate July 27, 1852
2. Call, Israel July 2, 1854
3. Call, Vententia February 14, 1856
4. Call, Viola June 16, 58 Alternate Birth Date: June 1918
5. Call, Anson Bowen October 20, 1863
6. Call, Harriet Louisa April 8, 1866
Marriage Number 3 Call, Anson (Male) Date: February 7, 1857 Place: Salt Lake City, Salt Lake, UT, USB
Marriage 3 Children:
Name: Birthdate: Place:
1. Call, Mary May 24, 1858
2. Call, Cylista April 9, 1860
3. Call, Samantha E. November 28, 1861
4. Call, Cyntha February 20, 1864
5. Call, Willard April 25, 1866
6. Call, Aaron July 3, 1868
Marriage Number 4 Call, Anson (Male) Date: February 24, 1857 Place: Salt Lake City, Salt Lake, UT, USC
Marriage 4 Children:
Name: Birthdate: Place:
1. Call, Ann March 15, 1858
2. Call, Fanny August 11, 1860
3. Call, Lucina April 8, 1862
4. Call, David June 20, 1868
5. Call, Sarah December 8, 1870
Marriage Number 5 Call, Anson (Male) Date: March 9, 1861
Marriage Number 6 Call, Anson (Male)
Church Ordinance Data: Call, Anson (Male) Baptism Date: May 21, 1834
Baptism Date: December 21, 1836
Baptism Date: May 20, 1836
Temple Ordinance Data: Call, Anson (Male) Baptism Date: September 6, 1975 Temple: Mesa, Maricopa County, Arizona
Endowment Date: October 8, 1975 Temple: Mesa, Maricopa County, Arizona
Endowment Date: December 22, 1845 Temple: Nauvoo, Hancock County, Illinois
Sealed to Parents Date: November 5, 1975 Temple: Mesa, Maricopa County, Arizona
Sealed to Parents Date: October 1, 1886
Sealed to Spouse Date: January 24, 1846 Temple: Nauvoo, Hancock County, Illinois
Places of Residence: Call, Anson (Male) Caldwell, Clinton,Ray, MO, USA 1838; Far West, Caldwell, MO, USA
1840-1846; Nauvoo, Hancock, IL, USA
1848; UT, USA
1850-1890; Bountiful, Davis, UT, USA
Vocations: Call, Anson (Male) Merchant & Farmer- Probate Judge
1851; Millard, UT, USA
Comments: Call, Anson (Male) Anson served a mission to Ohio.
Anson was a member of the Kirtland Camp. Anson covenanted to help the Saints leave Missouri. Anson was beaten by mobs. A statement was made by Anson on Rocky Mountain Prophecy.
In fulfillment of a prophecy of the prophet Joseph Smith in Montrose, Iowa, July 14, 1843, that, "He would come to the Rocky mountains, and that he would assist in building cities from one end of the country to the other," Anson Call built a home in Bountiful, then North Canyon ward, at which place he served as bishop 1849-50 and again 1873-77. In 1852, Anson represented the Millard county section in the legislature. In 1854 he founded Call's Fort, Box Elder county. In connection with his wife Maria he pioneered Parowan, Fillmore, Pauvan valley and Carson valley, built warehouse at Callville 1864, the head of navigation on the Big Colorado river. With his sons Anson V. and Chester, took part in the Echo Canyon campaign. At the organization of the Davis stake, June, 1877, he was made counselor to President William R. Smith. Anson was also promoter of the Davis and Weber Co. Canal company.
Anson In 1850, Anson had a household of 6 people. He owned $3000 in real wealth. In 1860, Anson had a household of 26 people. He owned $10000 in real wealth and $3000 in personal wealth. In 1870, Anson had a household of 5 people. He owned $55000 in real wealth and $2000 in personal wealth.
---

Ciao Perry


Or if that does not work, try this mail form.
All opinions are mine and mine alone, and represent my thinking at this point in time,
(subject to change based on better information).
All original writings of mine are just that, to reproduce, forward or use, parts or whole, you need to get permission from me first.
Spellings constructed for effect and to confound the ridged. ;)
©1996 by Perry L. Porter. All copyrights are maintained by any parties (individual or corporate) which may have originally created any of the information or artwork contained herein. If you see your work, and I've mistakenly not given you or your company credit, please E-mail me, I'll gladly add the appropriate credit, if you feel it's necessary.
plporter@pobox.com (E-Mail)
http://pobox.com/~plporter (Homepage)
ftp://ftp.xmission.com/pub/users/p/plporter (download)
http://www.xmission.com/pub/users/p/plporter (download)
Visitors since I started tracking them on Jan. 1st 1998.