Doctrine and Covenants

The Doctrine and Covenants contains many of the revelations of Joseph Smith. The first edition was published in Kirtland, Ohio in 1835. The LDS and RLDS churches publish a different compilations of Smith's revelations and instructions. Through the years there has been material added to and omitted from the 1835 edition. The 1981 LDS Doctrine and Covenants scripture is the most widely available edition containing Smith's revelatory pronouncements.

The publication of The Joseph Smith Revelations: Text and Commentary contains texts of these messages from early manuscripts and printed copies of Smith's revelations. Source documents include:
A Book of Commandments (printed sheets 1833)
Book of Commandments manuscript pages
The Evening and the Morning Star
Kirtland Revelations Book manuscript
Scriptory Book of Joseph Smith manuscript
Joseph Smith Journal
Newel K. Whitney Collection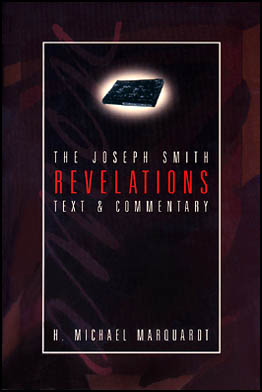 The Joseph Smith Revelations: Text and Commentary
© 1999 by H. Michael Marquardt. All rights reserved.
Salt Lake City: Signature Books, hardback 1999. 410 pp., map, footnotes, illustrations, appendices, bibliography, index. $44.95. ISBN 1-56085-126-0.
---
CONTENTS

Preface
Introduction
Common Abbreviations
Writings Not Included in this Study
Map: Mormon Country


Cross-References

I. HISTORICAL BACKGROUND

1. Evolution of the Canon

II. THE DOCUMENTS

2. Book of Mormon Period, July 1828 - March 1830

1. Sets at Nought the Counsels of God (LDS D&C 3)
2. O Ye That Embark in the service of God (D&C 4)
3. He Hath a Gift to Translate the Book (D&C 5)
4. He That Hath Eternal Life Is Rich (D&C 6)
5. Thou Shall Tarry till I Come in My Glory (D&C 7)
6. Spirit of Revelation (D&C 8)
7. Be Patient My Son (D&C 9)
8. That You May Conquer Satan (LDS D&C 10)
9. Behold It Is I That Speaketh (LDS D&C 11)
10. Establish the Cause of Zion (LDS D&C 12)
11. Keep My Commandments in All Things (LDS D&C 14)
12. Hearken My Servant John (LDS D&C 15)
13. Hearken My Servant Peter (LDS D&C 16)
14. Rely upon the Things Which Are Written (LDS D&C 18)
15. It Is by Your Faith that You Shall Obtain a View of Them (LDS D&C 17)
16. Pay the Printer's Debt (LDS D&C 19)

Introduction to Chapters 3 to 6.
Church of Christ Years, April 1830 - May 1834

3. Laying the Foundation: April 1830 - January 1831

17. Beware of Pride (LDS D&C 23)
18. Thy Duty Is unto the Church Forever (LDS D&C 23)
19. Strengthen the Church (LDS D&C 23)
20. Thou Also Art Under No Condemnation (LDS D&C 23)
21. It Is Your Duty to Unite with the True Church (LDS D&C 23)
22. The Gates of Hell Shall Not Prevail Against You (LDS D&C 21)
23. This Is a New and an Everlasting Covenant (LDS D&C 22)
24. The Rise of the Church of Christ (LDS D&C 20)
25. Go Thy Way and Sin No More (LDS D&C 24)
26. Thou Art an Elect Lady (LDS D&C 25)
27. All Things You Shall Receive by Faith (LDS D&C 26)
28. Listen to the Voice of Jesus Christ (LDS D&C 27)
29. The Hour Is Nigh (LDS D&C 29)
30. Thou Shalt Be Obedient (LDS D&C 28)
31. You Have Feared Man (LDS D&C 30)
32. Give Heed unto These Things (LDS D&C 30)
33. Your Whole Labor Shall Be in My Zion (LDS D&C 30)
34. Pray Always (LDS D&C 31)
35. Be Meek and Lowly of Heart (LDS D&C 32)
36. Be Ready at the Coming of the Bridegroom (LDS D&C 33)
37. I Come Quickly (LDS D&C 34)
38. Thou Shalt Preach My Gospel (LDS D&C 35)
39. I Will Suddenly Come to My Temple (LDS D&C 36)
40. Ye Shall Go to the [State of] Ohio (D&C 37)
41. Behold the Kingdom Is Yours (D&C 38)
42. The Kingdom of Heaven Is at Hand (D&C 39)
43. His Heart Was Right Before Me (D&C 40)

4. Receiving the Laws, February 1831 - September 1831

44. Hearken and Hear, O Ye My People (D&C 41)
45. Behold I Speak unto the Church (D&C 42)
46. Labor Ye in My Vineyard for the Last Time (D&C 43)
47. Preach Repentance unto the People (D&C 44)
48. He Shall Be Delivered Up unto the Law (D&C 42)
49. Be Watchful and Careful with All Inquiry (D&C 42)
50. I Am Alpha & Omega (D&C 45)
51. Seek Ye Earnestly the Best Gifts (D&C 46)
52. Write and Keep a Regular History (D&C 47)
53. Save All the Money that Ye Can (D&C 48)
54. I Have Sent unto You Mine Everlasting Covenant (D&C 49)
55. There Are Many Spirits Which Are False Spirits (D&C 50)
56. Receive the Properties of This People (D&C 51)
57. Hearken unto My Words
58. I Will Cut My Work Short in Righteousness (D&C 52)
59. You Shall Forsake the World (D&C 53)
60. Take Your Journey into the Regions Westward (D&C 54)
61. Ordained by the Hand of My Servant Joseph (D&C 55)
62. I the Lord Command & Revoke as It Seemeth Me Good (D&C 56)
63. Independence Is the Center Place (D&C 57)
64. My Laws Shall Be Kept on This Land (D&C 58)
65. The Fulness of the Earth Is Yours (D&C 59)
66. Let Them Lift Up Their Voices (D&C 60)
67. There Are Many Dangers upon the Waters (D&C 61)
68. Rejoice Together in the Land of Missouri (D&C 62)
69. Let the Church Repent of Their Sins (D&C 63)
70. I Will Have Compassion upon You (D&C 64)

5. Publishing the Revelations, October 1831 - April 1832

71. Blessed Are You for Receiving Mine Everlasting Covenant (D&C 66)
72. May the Kingdom of God Go Forth (D&C 65)
73. This Is Mine Authority (D&C 1)
74. Let Not Your Minds Turn Back (D&C 67)
75. The Testimony of the Witnesses
76. I the Lord Am with You (D&C 68)
77. Go Ye Out of Babylon (LDS D&C 133)
78. None Shall Be Exempt from the Justice and the Laws of God (LDS D&C 107)
79. Send Forth the Accounts of Their Stewardships to the Land of Zion (D&C 69)
80. Stewards over the Revelations, and Commandments (D&C 70)
81. Confound Your Enemies (D&C 71)
82. It Is Expedient in Me for a Bishop to Be Appointed (D&C 72)
83. To Receive the Funds of the Church (D&C 72)
84. Continue Preaching the Gospel (D&C 73)
85. According to the Revelations and Commandments (D&C 75)
86. Supporting the Families (D&C 75)
87. The Eyes of Our Understanding (D&C 76)
88. To Be a Servant unto Me
89. In the Days of the Apostles (D&C 74)
90. All Things Be Done unto My Glory (LDS D&C 78)
91. Go Ye into the World & Preach the Gospel (LDS D&C 80)
92. Equal in All Things
93. Glad Tidings of Great Joy (LDS D&C 79)
94. Proclaiming the Gospel in the Land of the Living & among Thy Brethren (LDS D&C 81)
95. The Spirit of Man in the Likeness of His Person (LDS D&C 77)
96. Let Whatsoever Is Done Be Done in the Name of the Lord
97. When Ye Do Not What I Say, Ye Have No Promise (LDS D&C 82)
98. All Children Have Claim upon Their Parents Untill They Are of Age (LDS D&C 83)

6. Priesthood Development, August 1832 - April 1834

99. Whoso Receiveth You as a Little Child Receiveth My Kingdom (LDS D&C 99)
100. This Is the Word of the Lord (LDS D&C 84)
101. Set in Order the House of God (LDS D&C 85)
102. The Angels Are Crying unto the Lord (LDS D&C 86)
103. Stand Ye in Holy Places (LDS D&C 87)
104. I Now Send upon You Another Comforter (LDS D&C 88)
105. In Token of the Everlasting Covenant (LDS D&C 88)
106. Called to Be a Councellor
107. Enoch of Old
108. A Word of Wisdom (LDS D&C 89)
109. Set in Order the Churches (LDS D&C 90)
110. The Apocrypha (LDS D&C 91)
111. Ye Shall Receive Him into the Firm (LDS D&C 92)
112. Man Is the Tabernacle of God (LDS D&C 93)
113. The Building of Mine House (LDS D&C 95)
114. Bringing Forth My Word (LDS D&C 96)
115. For This Is Zion the Pure in Heart (LDS D&C 97)
116. According to the Pattern (LDS D&C 94)
117. Renounce War and Proclaim Peace (LDS D&C 98)
118. A Pure People (LDS D&C 100)
119. Avenge Me of Mine Enemies (LDS D&C 101)
120. Restoration and Redemption of Zion (LDS D&C 103)
121. Properties Which Belong to the Firm (LDS D&C 104)
122. Let There Be Reserved Three Thousand Dollars

7. Church of the Latter Day Saints Period, May 1834 - April 1838

123. Wait for a Little Season for the Redemption of Zion (LDS D&C 105)
124. Separated Himself from the Crafts of Men (LDS D&C 106)
125. Condemnation Resteth upon You
126. The High Priest, and Elder, Are to Administer in Spiritual Things (LDS D&C 107)
127. Shall Have Wisdom Given Him
128. If He Repent Not
129. Flee the Wrath to Come
130. Let Them Repent Speedily
131. Their Sins Are Forgiven Them
132. Are Under Condemnation
133. He Shall See Much of My Ancient Records
134. He Shall Be Restored unto His Former State
135. Had Better Not Be Baptised Here
136. Receive Counsel of Him Whom I Have Appointed (LDS D&C 108)
137. I Beheld the Celestial Kingdom of God (LDS D&C 137)
138. I Have Accepted This House (LDS D&C 110)
139. Concern Not Yourselves about Zion (LDS D&C 111)
140. Rebel Not against My Servant Joseph (LDS D&C 112)
141. Things Which Are Not Pleasing in My Sight
142. Awake My Shepherds and Warn My People
143. Let the First Presidency of My Church Be Held in Full Fellowship
144. Except It Be Dedicated by This Presidency
145. Get Out of This Place
146. Put on the Authority of the Priesthood (LDS D&C 113)
147. Others Shall Be Planted in Their Stead (LDS D&C 114)
148. Provide for His Family

8. Early Church of Jesus Christ of Latter Day Saints Period, April 1838 - November 1843

149. The Ground upon Which Thou Standest Is Holy (LDS D&C 115)
150. Let the Twelve Be Organized (LDS D&C 118)
151. Their Former Standing Has Been Taken Away
152. This Shall Be a Standing Law unto Them Forever (LDS D&C 119)
153. It Shall Be Disposed Of (LDS D&C 120)
154. Let Them Settle Up Their Business (LDS D&C 117)
155. Council of the Eternal God of All Other Gods (LDS D&C 121-122)
156. I Am Well Pleased with Your Offering (LDS D&C 124)
157. Let Them Gather Themselves Together (LDS D&C 125)
158. Take Stock in the [Nauvoo] House
159. Your Offering Is Acceptable to Me (LDS D&C 126)
160. I the Lord Will Bless Them
161. A Mission to Preach My Gospel
162. Beautify the Place of My Sanctuary
163. Take in Hand the Editorial Department
164. The Kingdom of God and His Law
165. I Am the Lord Thy God
166. Shall Be Crowned upon Your Heads
167. I Shall Triumph over All My Enemies (LDS D&C 127)
168. The Key of Knowledge (LDS D&C 128)
169. For Time and for All Eternity (LDS D&C 132)
170. Labor Diligently in Proclaiming My Gospel

Conclusion
Illustrations

Appendices

A. Corrected Dates and Locations of Joseph Smith's Revelations
B. Book of Commandments Manuscript Fragments
C. Revelations Printed in The Evening and the Morning Star
D. Location of Manuscript Revelations
E. Six Additional Revelations Given through Joseph Smith
F. A Commandment to Oliver Cowdery Received in 1829

Select Bibliography
Index
---
NOTE: OUT OF PRINT
---
Joseph Smith | LDS Temples | Book of Mormon
---
Return to Restoration Scriptures