Wesley P. Walters (1926-1990)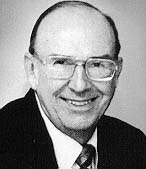 Quotes:
A vision, by its inward, personal nature, does not lend itself to historical investigation. A revival is a different matter - especially one such as Joseph Smith describes - in which 'great multitudes' were said to have joined the various churches involved. Such a revival does not pass from the scene without leaving some traces in the records and publications of the period.
I believe that every fair-minded person should be open to change his conclusions when the evidence points in a different direction.
---
Important publications include:
"New Light on Mormon Origins from the Palmyra (N.Y.) Revival," Bulletin of the Evangelical Theological Society 10 (Fall 1967):227-44; revised and enlarged in Dialogue: A Journal of Mormon Thought 4 (Spring 1969):60-81.
"Joseph Smith Among the Egyptians: An Examination of the Source of Joseph Smith's Book of Abraham," Journal of the Evangelical Theological Society 16 (Winter 1973):25-45.
"Joseph Smith's First Vision Story Revisited," Journal of Pastoral Practice 4,2 (1980):92-109.
The Use of the Old Testament in the Book of Mormon (Salt Lake City: Utah Lighthouse Ministry, 1990).
co-author with H. Michael Marquardt, Inventing Mormonism: Tradition and the Historical Record (San Francisco: Smith Research Associates, 1994).
---
Joseph Smith | LDS Temples | Book of Mormon
---
Return to Selected Bibliographies