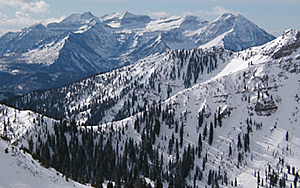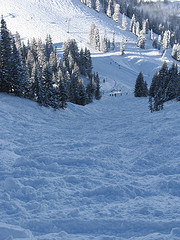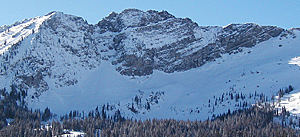 ---
Joint Techs Alpine Event We are planning an unofficial Joint Techs Ski/Board Day in Little Cottonwood Canyon (site of Alta and Snowbird) near Salt Lake City on the Saturday prior to the conference - January 30, 2010.
This follows a successful ski day with over 35 skiers and one boarder - of all levels - the last time that Joint Techs was held at the University of Utah in February 2005. Michaela Mezo of HP and Brian Savory, Susan Odum, and John Martinez of ADVA are helping with the preparations.
Thursday, February 4 retrospective
First, thanks to everyone who participated over the weekend and especially to HP and ADVA for their sponsorship of the very relaxing après-ski evening at Snowbird.
Photos

Steve Corbató
Mike O'Connor
Shumon Huque
Lauren Rotman
Wednesday, January 27 update
Overview
We'll have roughly 30 people this year - half of whom have skied or boarded Utah before and roughly half who rate themselves as advanced. We're definitely still open to additional participants, so if there are others interested, please encourage them to contact me (steve.corbato /_AT*/ utah.edu).
If you're planning ski/board with us this weekend and you haven't filled out the short final survey yet, please take a moment to do so. This will help us get everyone matched up with hotels, cars, resorts, etc.
Reminder list for recommended gear
For packing purposes, plan on alpine winter: cold, cloudy (i.e., flat light), and windy conditions - especially near the ridgelines.
Cell phone (there's generally good cell coverage at both Alta and Snowbird)
Goggles
Good gloves
Sun screen
Lip balm
Neck gaiter, mask, or balaclava for wind chill situations (recommended)
Helmet (recommended)
Meeting up
On Saturday morning, we are planning on meeting at 7:45 am in the lobby of the Marriott University Park Hotel (480 Wakara Way 84108).
If this plan changes (due to weather and/or canyon conditions), I will send an e-mail to the group mailing list. Please check your e-mail Saturday morning.
We'll break into two groups heading separately to Alta and Snowbird, which are adjacent resorts in Little Cottonwood Canyon. Jeff Boote of Internet2 will lead the Snowbird contingent, which will have the boarders (5-6 in number) and probably a few advanced skiers. We'll plan to get the beginners into morning lessons at Alta.
Carpooling
We will rely on car pooling in personal and rental cars as we did last time. At this point, we have at least seven cars. It would be great if several more people could rent cars. If you do rent, please remember to request ski racks. Last time Avis had a special offer (AWD#K005005) with a discounted rate and free racks (I'm not sure if this is still valid). At this point, the weather forecast is favorable for driving up/down the canyon in non-4WD vehicles on Saturday. However, we do want to leave early to beat the traffic up the canyon. As we discovered last weekend, there are number of powder-starved skiers in the Salt Lake Valley this winter.
Equipment rental
For the renters in the group, the Sports Den, which is the closest ski rental location to campus (1350 Foothill Drive 84108 in the Foothill Village shopping center) is giving us a group rate - $18/day starter packages (normally $20) and $25/day performance packages (Nordicas - normally $35). Packages include skis, poles, and boots.
They have asked that to speed the rental process on Saturday morning or earlier, the renters fax the completed rental agreement (PDF) in advance. The Sports Den's fax number is 801-582-5650.
If you're arriving in SLC early enough on Friday, you're encouraged to pick up your rental equipment that evening. The Sports Den and REI, are five and ten minute drives, respectively, from the hotel, and both are open until 9:00 pm on weeknights.
Here's more information on rental options in the valley.
If you're interested in renting at Alta, Alta Sports at the Albion base area has beginner packages starting at $22/day.
Discount lift tickets
The Sports Den sells discount lift tickets (roughly 10% off the price at the resorts) for both Alta and Snowbird.
Directions from hotel to Little Cottonwood Canyon
The drive from the hotel to the resorts is straightforward and should take 35-40 minutes modulo canyon traffic. The route to Alta and Snowbird are marked with highway signs from I-215 on.
From the hotel parking lot, turn right (downhill) on Wakara Way (0.3 miles)
Where Wakara ends, turn left onto Foothill Drive (3.4 miles).
As Foothill becomes a divided highway at I-80, follow the signs to I-215 Belt Route (5.3 miles)
Leave the freeway at Exit 6 (6200 South) and turn left onto 6200 South
6200 South proceeds uphill and turns to the right (now Big Cottonwood Rd) (1.7 miles)
Go straight through the intersection at the mouth of Big Cottonwood Canyon (Solitude/Brighton) - Utah Avalanche Center billboard should be on the right
At this point, the road is South Wasatch Blvd (2.2 miles)
At a three way junction, stay to the left (a sign to the La Caille restaurant on the right)
The road is now Little Cottonwood Road - follow this up the canyon to Snowbird/Alta (8.0 and 9.4 miles respectively)
At Snowbird, I would recommend parking at Creekside (Entry #1). This entrance is just past the point where the uphill passing lane on Little Cottonwood Rood ends.
At Alta, we'll park at the Albion Base Area (second entrance - past the Collins Area)
Beginner lessons
First-time skiers can take a two-hour lesson from the Alta Ski School for $48. The lessons start at 10:15 am and also include a lift pass good for the rest of day on the lower lifts on the Albion side (Sunnyside, Cecret, and if open, Albion).
Advanced skiers
At this point, we have reasonably good snow coverage at both Alta and Snowbird. However, there are still exposed rocks in some of the off-piste areas, so be warned. If you're looking for challenging runs, I'd recommend the following. As the day plays out, we might organize group runs at some of these.
Alta (these require some uphill hiking and/or traversing at an elevation of 10,500')

Catherine's Area (to the left of the Supreme lift)
Devil's Castle (to the left of the Sugarloaf lift - this area is open intermittently depending on coverage and avalanche danger)
High Traverse to Sunspot and High Rustler (off Collins lift)

Snowbird

Mineral Basin (accessed via Peruvian Tunnel, Little Cloud lift, or the tram)
Peruvian Cirque and Gad Chutes (off Little Cloud or the tram - the high side of the Cirque Traverse is not for the acrophobic)
S.T.H. slot (off Gad-2 chair and Election run)
Black Forest (off Gadzoom or Gad-2)
Lunch
At Alta, we plan to meet at 12:30 p.m. at Alf's - which is mid-mountain on the Albion side - below the top of the Sunnyside lift and near the bases of the Sugarloaf and Cecret lifts. We will make a reservation on Friday to hold tables.
At Snowbird, the Mid-Gad restaurant in Gad Valley below the top of the Gadzoom chair is a good place for lunch.
Après-ski
ADVA and HP are graciously sponsoring our après-ski event on Saturday (4:00-6:00pm). The venue is the Magpie Room located on Level B of the Cliff Lodge (across from the Atrium Restaurant).
The Cliff Lodge is located at Entry 4 to Snowbird and is easily recognizable as a 10-story, concrete/glass structure with an outdoor pool on the roof.
Skiers coming from Alta can take the Alta Bypass Road as a more direct route. Participants parking during the day at Entry 1 at Snowbird (Cliffside) will need to drive a few minutes uphill to reach the Cliff Lodge.
Sunday - Day #2
We will have a smaller group going back up Little Cottonwood on Sunday. We'll plan to meet at 8:00 a.m. at the Marriott University Park Hotel lobby. Depending on group preferences, we'll finalize details at the après-ski event Saturday evening and then relay those over the mailing list.
Hot links
---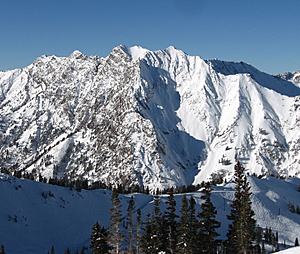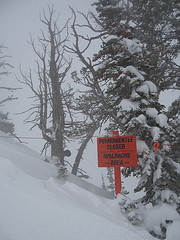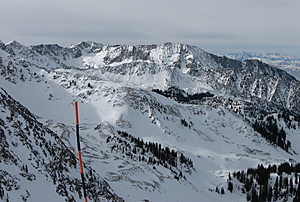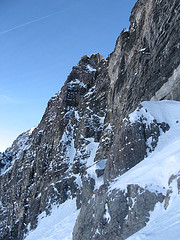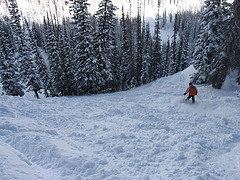 ---
last updated: Fri Feb 5 07:10:05 MST 2010
hits since 25 September 2009