Day 7 pictures
Click on the small picture for a larger version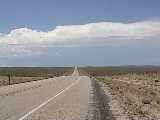 After climbing out of Alcova we found ourselves on the Wyoming high plains. The road to Independence Rock was gentle rollers like this.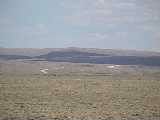 The dirt county road over Ryan Hill is built almost on top of the trail. This road goes most of the way back to Casper. This 40 miles of the trail was one of the hardest for water. After leaving the North Platte river near Casper the trail crosses an large swampy alikali bed with few other water sources. The alkali water would kill the animals if they drank it. On heavily traveled years it is estimated that as many as 3,000 dead animals would litter this 40 mile section of the trail by the end of summer. And you thought that today's road kill smelled bad!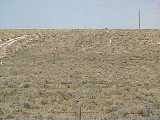 The trail crosses Wyoming 220 almost in front of the main entrance to the Pathfinder Ranch. In this picture you can see rows of ruts comming down the hill. The ranch road is still using the trail.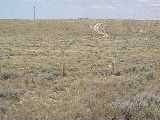 In this picture notice that the hill to the left of the ranch road is smooth and to the right is rough. The rough texture on the hill are trail ruts. Notice that the trail ruts come through the fence and towards the road.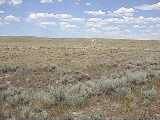 Here you can see where the ruts came down off the hill to the point where the road was built over the top of them.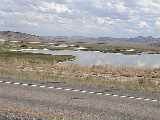 This is a picture of Steamboat Lake. The salt crust around the edges has so much soda in it that the pioneers could use it for levening in their bread.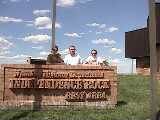 Here is picture of Spencer, Clarence, and Rhielle at the Independence Rock Rest Area.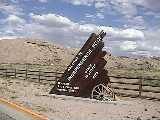 Here is a picture of Independence Rock which is behind the rest area.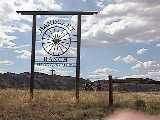 Here is an entrance to Handcart Ranch. Martins Cove, the Handcart Visitors Center and Devils Gate are accessable from this ranch. Since this portion of the Sun Ranch was purchased by The Church Of Jesus Christ Of Latter Day Saints permission in granted to the general public to visit these sites. Because of early blizzards in October of 1856, Martins Cove became the site of the single largest loss of life on the emmigrant trail.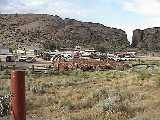 This picture of Devils Gate is taken with the handcart parking area in the forground. People are encourage to pull a handcart part of the way to Martins Cove to get a better feel for what it must have been like to travel the trail using this mode of transportation.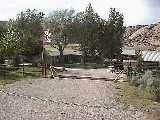 This is a picture of the old Sun Ranch main house which has been converted into the Handcart Visitors Center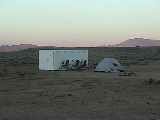 Here is a picture of our camp at the Cherry Creek Campground. When the trail was in use this was a favorite camping area.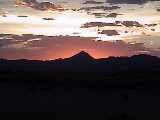 We were treated to a beautiful sunset over Split Rock viewed from the Cherry Creek campground.

Back to Day 7 On to Day 8 Back to Homepage

Copyright © Clarence Whetten 2001