Day 8 pictures
Click on the small picture for a larger version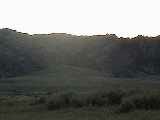 Martins Cove as the sun rises over the Rattlesnake Mountains as seen from the Cherry Creek Campground. The cove is located on the back side of this sand hill between the hill and the mountain.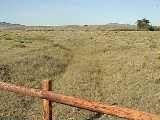 These are the trail ruts that run along the south side of the Cherry Creek Campground.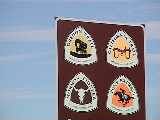 Through this part of Wyoming the Oregon Trail, the Mormon Trail, the California Trail and the Pony Express Trail are all the same trail. The first transcontental telegraph followed the same trail through Wyoming.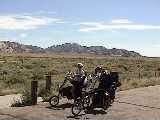 Split Rock is the one of the landmarks that was used to guide emigrants along the trail.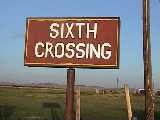 The sixth crossing of the Sweetwater River is where the Willie Handcart Company was caught by the same blizzard that trapped the Martin Handcart Company. They were camped here completely out of food for two days waiting for supplies from Salt Lake City.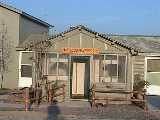 The Sweetwater Station Riverside Campground listed in the ACA TransAm Maps has been purchased by The Church of Jesus Christ Of Latter Day Saints and is being used as the 6th Crossing Welcome Center and a staging area for youth handcart treks. The 6 retired couples serving summer service missions there have been welcoming all the bicycle tourists that stop in with ice cream, a home cooked dinner, and a place to camp all for free.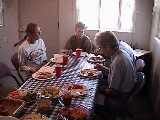 Here we are enjoying a wonderful home cooked dinner with the service missionaries at the 6th Crossing Welcome Center. The lady seated across the table from my plate turned out to be my father-in-law's cousin.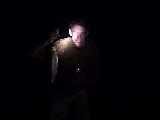 After dinner most of the men went fishing and they invited Spencer to go with them. I'm not a fisherman so my son had not been fishing before. Here is a picture of his first fish. It was a 13 inch trout.

Back to Day 8 On to Day 9 Back to Homepage

Copyright © Clarence Whetten 2001