Day 9 Pictures
Click on the small picture for a larger version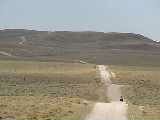 Here were are headed down the Atlantic City/Hudson Road. Yes we do have to go over that hill but the view from the top is quite spectacular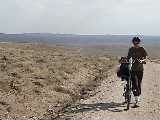 Here is Spencer pushing his bike up the last part of the hill on Atlantic City Road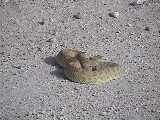 This is the Rattlesnake that Rhielle had her experience with.



Thanks to a missionary couple we were spared from hauling all of our gear for about 8 miles and a lot of elevation gain this day. Here is where we found our gear next to a handcart near the Willie Rescue Monument on the trail. For the next 13 miles we rode our bikes along a section of the trail that hasn't changed much in the last 100 years.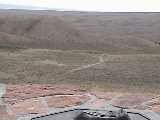 This is a picture of the trail as it comes up the mountain from the Sweetwater River. This section is so steep I had trouble pushing an unloaded mountain bike up it last year. This picture was taken from the Willie Rescue Monument.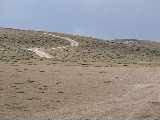 This is a picture of the trail as it continues up the mountain from the monument. This section is so steep that we pushed our bikes for the next 2.5 miles. When there was a down hill section in this part we usually walked them because the trail was so rough and rocky.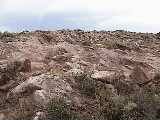 At the top of the mountain is Rocky Ridge. Here the layers of rocks are turned up and presented this formidable obsticle to be crossed. Many wagons broke axles and wheels crossing this rocky section of the trail.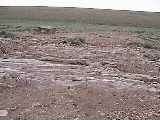 Here is a picture of Rocky Ridge looking down from the top. There are actually two ridges that look like this.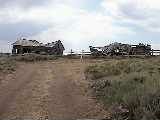 These old ranch buildings are located at Radium Springs. The springs were the only water we saw across the whole plateau on this dry year.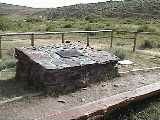 This monument at Rock Creek marks the site of a mass grave of the Willie Handcart Company containing 13 bodies. These people perished while walking and pulling their hancarts the 15 miles over Rocky Ridge to Rock Creek during a blizzard in October of 1856. This 15 mile march through 18 inches of snow took 27 hours. Family journals record that my Great-Great-Grandmother placed one of her hand woven linen sheets over the bodies in this grave before it was covered.

Back to Day 9 On to Day 10 Back to Homepage

Copyright © Clarence Whetten 2001