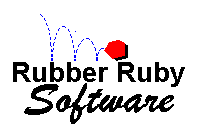 Rubber Ruby Software, Inc. provides computer consulting and contract software on UNIX, PC, and Macintosh systems. We have experience in graphics, networks, database, and real-time systems.

We also provide HTML and Web page authoring, consulting, and maintenance. Our specialty is Perl.
---
We also have FREE software of our own available for download. Well, almost free--It's very inexpensive shareware. Click here to go to our shareware page.
Our stupid awards!

---
For more information contact:
daina@xmission.com or call our office at (801) 277-0888.

© Copyright 2020 by Rubber Ruby Software, Inc. All Rights Reserved.