Long ago in medieval England, there lived a young knight born of wealth and privilege named Sir Henry Wyatt. Wyatt was born in Yorkshire about the year 1460, the fourth son of Richard Wiat of Southange. Wyatt had attended college at Eton with the heir to the throne, Henry Tudor, and they had become friends. King Richard III felt threatened by the possible support Wyatt could provide to the legal heir. Unable to justify killing him outright, the King imprisoned Wyatt often for his opinions, at least once in the Tower of London.


In a cold and narrow tower (there are no 'dungeons' at the Tower; people were imprisoned in a variety of locations, including the towers, assorted houses, stables and cellars), Sir Henry, then in his mid-20's, suffered numerous tortures, possibly including the rack and an instrument called
barnacles
; vinegar and mustard were forced down his throat. He slept on a thin straw mat in a damp, unheated room; his clothing was in tatters and insufficient to keep him warm; and he was given very little food.
One day, a "cat came into the dungeon with him, and, as it were, offered herself unto him. He was glad of her, laid her in his bosom to warm him, and by making much of her won her love. After this she would come every day unto him in diverse times, and when she could get him one, bring him a pigeon." The cat came to be known as Sir Henry's "acater" [caterer]. The pigeons were dressed out and cooked for Sir Henry by a friendly gaoler.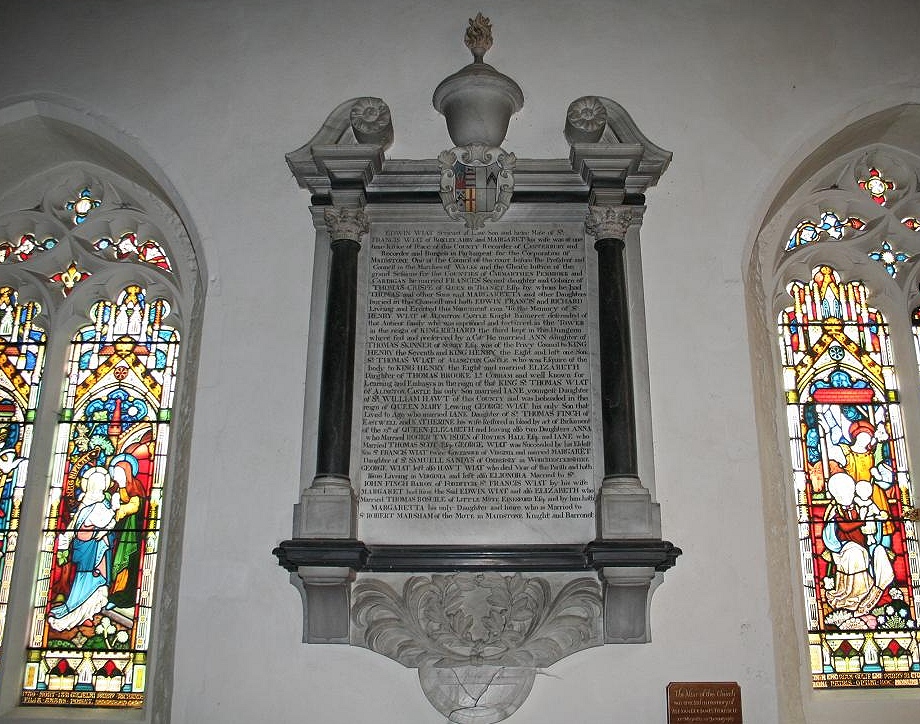 In the Church of St. Mary the Virgin & All Saints (the
Boxley Church
) in Maidstone, Kent on the north wall of the chancel above the choirstalls, near the altar, is a large stone memorial. It was put up by Edwin Wiat and reads, in part: "To the memory of Sir Henry Wiat, of Alington Castle, Knight banneret, descended of that ancient family, who was imprisoned and tortured in the Tower, in the reign of King Richard the third, kept in the dungeon, where fed and preserved by a cat. ..." (see below for full text of the memorial).
Nothing is known of what became of the cat, but Sir Henry was freed from prison shortly after Henry Tudor ascended the throne in 1485. The historian for the Boxley Church wrote me that "
The surname has been variously spelt 'Wiat' and 'Wyatt'. Also 'Knight banneret' would today be spelt 'Knight baronet'. Part of the family emigrated to Virginia in the 1600's and many Wyatt descendants return to Boxley Church to visit their roots -- and read about the cat! Some local people here claim to have seen the ghost of a cat wandering around an old farmhouse, now a restaurant.
"
The Wyatt papers, drawn up in 1727, relate that "Sir Henry in his prosperity would ever make much of a cat and perhaps you will never find a picture of him anywhere, but … with a cat beside him." (See the full passage below.) As a token of gratitude, Sir Henry introduced to the dovecotes of Allington castle a strain of brown pigeons from Venice.
The Earl of Romney, who is directly descended in the female line from the Wyatts and is the present representative of the Wyatt family, has a half-length portrait of Sir Henry seated in a prison cell with a cat drawing towards him a pigeon through the grating of a window. Lord Romney also possesses a second picture of 'the cat that fed Sir Henry Wyatt'. Both paintings represent Sir Henry in advanced years, and were painted many years after the fact by unknown artists.

On the day of his coronation, King Henry VII granted Sir Henry Wyatt his coat of arms as Knight Banneret, and Sir Henry remained in royal favor and received the highest honors throughout his lifetime. He obtained a castle and estate named
Allington
near Maidstone in Kent, and cats were welcome. Sir Henry Wyatt died at nearly 80 years of age (Oct. 11, 1537), having been married twice. His son
Thomas ("The Elder") Wyatt
was a noted poet.

Much of the information above comes from an article written for the Boxley Church magazine by Richard Cooke titled "The Hero of the Cat," and information provided to me by Robin Ambrose, the Boxley Church historian.
Additional documentation is available in the ninth 'Meet Your Wyat Cousins' letter from "Wiat Manuscript" in the possession of Lord Romney and credited in the book, "The Wiatt Family of Virginia,"published in 1980. The full passage is below:
"He was imprisoned often; once in a cold narrow tower, where he had neither a bed to lie on, nor cloaths sufficient to warm him, nor meat for his mouth; he starved there had not God, who sent a Crow to feed his prophet; sent this his country's master, a Cat, both to feed him and to warm him ---- it was his own relation from whom I had it ---- A cat came one day down into the dungeon unto him, and, as it were, offered herself unto him, he was glad of her, laid her in his bosome to warm him, and making much of her, won her love. After this she would come every day unto him in diverse times, and when she could get him one, bring him a pigeon; he complained to the keeper of his cold and short fare; the answer was, he durst not better it; but said Sir Henry, 'If I can provide any, will you promise to dress it for me?'. 'I may well enough' said the Keeper, 'are you safe for that matter' and for him from time to time such pigeons as his Acater (caterer) the cat, provided for him. Sir Henry in his prosperity would ever make much of a cat, and perhaps you will never find a picture of him anywhere, but with a cat beside him."




| | |
| --- | --- |
| Sir Henry Wyatt's Shield | [ The shield was found on a website that is no longer online. All I am able to determine is that the image is that of a barnacle. ] |
---
Tower of London cats:
- Henry Wriothesley and his cat Trixie
- Sir Henry Wyatt and the Caterer Cat

- John Augustus Bonney and Citizen
---
* The full text of the memorial is as follows:
"EDWIN WIAT Sergent at Law Son and heire Male of Sr FRANCIS WIAT of BOXLEY ABBEY and MARGARET his wife was at one time Justice of Peace of this COUNTY Recorder of CANTERBURY and Recorder and Burgess in Parliament for the Corporation of MAIDSTONE. One of the Council of the court before the President and grand Session for the COUNTIES of CARMARTAEN PEMBROKE and CARDIGAN he married FRANCES Second daughter and Coheire of THOMAS CRISPE of QUEX in THANET Esqe by whom he had THOMAS and other Sons and MARGARETTA and other Daughters buried in the Chanecll and hath EDWIN FRANCIS and RICHARD Living and Erected this Monument 1702 To the Memory of Sr HENRY WIAT of ALINGTON CASTLE Knight Bannert descended of that Ancient family who was imprisoned and tortured in the Tower in the reign of KING RICHARD the third kept in the Dungeon where fed and preserved by a Cat. He married ANN daughter of THOMAS SKINNER of SURREY Esqe was of the Privy Council to KING HENRY the Seventh and KING HENRY the Eighth and left one Son Sr THOMAS WIAT of ALINGTON CASTLE who was Esquire of the body to KING HENRY the Eighth and married ELIZABETH Daughter of THOMAS BROOKE Lord COBHAM and well known for Learning and Embasys in the reign of that KING. Sr THOMAS WIAT of ALINGTON CASTLE his only Son married JANE younger Daughter of Sr WILLIAM HAWT of this COUNTY and was beheaded in the reign of QUEEN MARY Leaving GEORGE WIAT his only Son that Lived to Age who married JANE Daughter of Sr THOMAS FINCH of EASTWELL and KATHERINE his wife Restored in blood by act of Parliament of the 13th of QUEEN ELIZABETH and leaving also two daughters ANNA who Married ROGER TWISDEN of ROYDEN HALL Esqe and JANE who Married THOMAS SCOT Esqe GEORGE WIAT was Succeeded by his Eldest Son Sr FRANCIS WIAT twice GOVERNOR of VIRGINIA and married MARGARET Daughter of Sr SAMUEL SANDYS of OMBERSLY in WORCHESTERSHIRE. GEORGE WIAT left also HAWT WIAT who died Vicar of this Parish and hath Issue Living in VIRGINIA and left also ELINORA Married to Sr JOHN FINCH BARON of FORDITCH. Sir FRANCIS WIAT by his wife MARGARET had issue the Said EDWIN WIAT and also ELIZABETH who Married THOMAS BOSVILE of LITTLE MOTE EINESFORD Esqe and by him hath MARGARETTA his only Daughter and heire who is Married to Sr ROBERT MARSHALL of the MOTE in MAIDSTONE Knight and Barronet."