For 4 years, Casper hopped on the bus around 10 am every morning and sat on the back seat throughout its entire 11 mile route. The feline would travel around his home city of Plymouth, Devon, for up to an hour before arriving back at the same stop.
During his regular trips the 12-year-old cat passed an historic dockyard and naval base, a city centre, several suburbs and a red light district. He took his daily rides for so long that all First Bus drivers were told to look out for him to ensure he got off at the right stop.
Owner Susan said: "I called him Casper because he had a habit of vanishing like a ghost. But then some of the drivers told me he had been catching the bus. I couldn't believe it at first, but it explained a lot. He loved people and we have a bus stop right outside our house so that must be how he got started. He'd queue up in line good as gold - it'd be 'person, person, person, cat, person, person'."
A spokesman for First Bus added: "He'd just curl up at the back of the bus. He never caused any trouble."
After an estimated 20,000 miles on the bus, on January 19, 2010, Casper was killed crossing the road to catch his daily ride.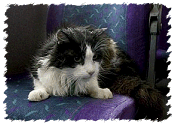 Casper, the cat who rode a bus