In late 2003, Tuxedo, an outside cat, had been taken to the vet to be neutered. As was her habit, his owner carried him out in her arms after the surgery - but the cat leaped from her arms and escaped. For 3 days the owner and a friend looked for him. They put up posters, talked to nearby stores, walked up and down the adjacent railroad tracks calling his name. Nothing.

Finally, in desperation the owner looked up "animal communicators" on the internet and came across the website of Hilary Renaissance. The owner's friend, who had been closest to and most involved with Tuxedo, called Hilary and described what had happened. Hilary told the friend she would communicate with Tux, and to call her back in 3 hours.

Hilary said Tuxedo showed her he'd gone over the railroad tracks behind the vet's office, up a hill, then stopped under a big white van. He then went down a dirt path to a clump of weeds, went down what appeared to be some broken cement steps, and was now in or near a black hole. Hilary couldn't tell if he was still in this world, or had crossed over. Lisa followed those directions (it turned out the "van" was an RV), stopping to sit on a broken chunk of cement. She held out an open can of tuna fish and softly called "Tuxedo." He walked out of a 5 gallon black bucket, directly to her. After he ate, she picked him up and brought him home. Tuxedo became an inside cat.

Nine years later, Tuxedo walked out the door when a handyman left it open. His owner saw him on the front porch hours later, and in a panic, went out to pick him up. Tux bolted across the yard and disappeared. Two days later, the owner called Hilary Renaissance and asked for help again. Hilary again got in touch with Tuxedo and reported back that he had jumped off the porch and gone to his left, run across some concrete and over a concrete wall. He was hiding in a dark area, such as a storage shed, carport, or stairwell. She said there was a weed blocker or metal detector, a sprinkler head, and some old 2x4's or pieces of wood where he was hiding. She also reported that Tuxedo was feeling a bit safe because there was a beige cat nearby who had marked the territory well so he felt no predators would invade the space.

The owner recognized that the concrete Tuxedo had run across was her driveway, and the wall was a retaining wall on the edge of the owner's property. She didn't, however, relish rooting around the neighbor's shed and garage or hanging out in his yard, so she said, "Hilary, can't you just tell Tuxie to come home?" Hilary said she'd try, but couldn't make any guarantees.

Tuxedo's owner came home from work, bracing herself to go sit on the neighbor's lawn for the next few hours. She came inside the house, put her keys down, and got ready to go back out the door .... when she turned to see Tuxedo coming up the stairs from the basement! Hilary had brought Tuxedo home, and he had gone one step further: he figured out how to wiggle his way INTO the cat run adjoining the house so he could meet his owner at the door.

Tuxedo is one of our cats.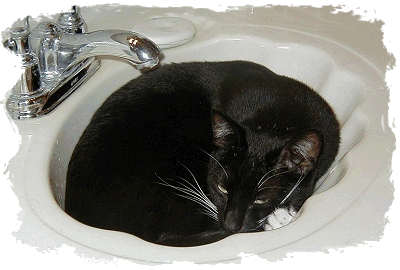 As an animal communicator, Hilary Renaissance does much more than find lost pets - she facilitates conversations between you and your animal friend so you can learn more about each other. Hilary Renaissance's website is: http://www.calmpet.com/