The Cat Who Went to College


.

In 2004, it came to the attention of Pennyslvania Attorney General Jerry Pappert that online college degrees were being sold via email from non-existent Trinity Southern University, based in Texas. Undercover operatives set up a sting operation, wherein Colby Nolan filled out an application to obtain a bachelor's degree in administration, which was being sold for the low low price of $299.

The school's administration replied that Colby's work experience - working at a fast-food restaurant and previously having a paper route - qualified him for an MBA degree for $100 more, so a check was mailed to the administration.

An authentic-looking master's degree certificate, complete with gold seal and appropriate signatures from the non-existent university, was mailed to Colby after the check had cleared. Colby also received a transcript that stated he had accumulated a 3.5 GPA after successfully completing classes in economics, accounting, and finance, all with A's or B's.

"Dr." Colby Nolan was shortly thereafter revealed to be the 6-year-old black cat of a staffer in the Attorney General's office, and posed for news articles wearing a tiny graduation cap. Ultimately, charges were filed against the institution, a penalty of $20,000 was imposed, and the site's website was removed.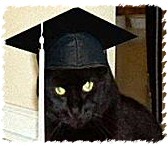 ---