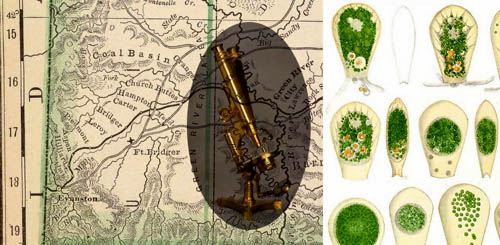 Joseph Leidy Microscopy Portal
What is this page?
I wrote an article for Micscape on Joseph Leidy and his 1879 masterpiece, 'Fresh-Water Rhizopods of North America'. I created this page for basically three reasons:
1. Miscape can only handle articles, and their supporting images and files, of reasonable size, and I wanted to offer more to the readers and to searchers on the web.
2. There are already some good resources on the web to support the article, but since hyperlinks can be so ephemeral, this 'portal' allows me some control to keep the links active and updated rather than have them 'cast in stone' once the article is published.
3. I wanted to focus on Leidy's 1879 work -- 'Fresh-Water Rhizopods . . .' -- in the article but didn't want to short-change readers who wanted to learn more of Leidy and of Leidy's other microscope related works.
So I hope the resources and links below are useful. Click a link in the table below, or scroll through.
---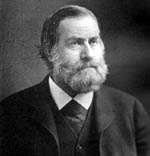 A short bio of Leidy: http://www.strangescience.net/leidy.htm
Leidy, as seen from the eyes of a friend: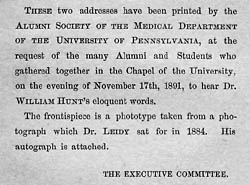 William Hunt, a close friend and colleague of Leidy, gave two wonderful speeches. Both are poignant, and amusing, and filled with wonderful stories as only a friend could tell.
Note: The below are scans of my original copy of these addresses
Click on the thumbnails below to read Hunt's 'Personal History' address given at the Academy of Natural Sciences, May 12, 1891, 12 days after Leidy's death.
| | |
| --- | --- |
| Pages 49-54 | |
| Pages 55-60 | |
Later ( Nov. 17, 1891 ), Hunt gave a longer address on Leidy's university career before the alumni and students of The Medical Department of the University of Pennsylvania. Click on the thumbnail below to read this enjoyable account.
| | |
| --- | --- |
| Pages 7-12 | |
| Pages 13-18 | |
| Pages 19-24 | |
| Pages 25-30 | |
| Pages 31-36 | |
| Pages 37-43 | |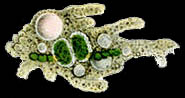 Andre Wier and Lynn Margulis' 'The wonderful lives of Joseph Leidy' article: http://www.im.microbios.org/09march00/11%20Wier%20(P).PDF

Joseph Leidy: The Last Man Who Knew Everything by Leonard Warren, Yale University Press (October 11, 1998), 320 pages. (Note: Good used copies can be found at www.bookfinder.com, often for as little as $10 - 15 USD)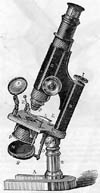 Leidy had many microscopes through the years.
In 1879, in the Introduction to 'Rhizopods', he recommended, and indicated he used, Beck's Economic Microscope: http://www.sil.si.edu/digitalcollections/trade-literature/scientific-instruments/files/52537/ (Note: #5021, image on the 7th page, with actual description and 1880 price on the 8th page)
Also, he also mentioned, in 'Rhizopods', that a small Hartnack, received from a friend for his 50th birthday and kept on his study table, was the instrument that launched his interest and passion for the study of Rhizopods.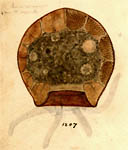 There are at least three of Leidy's microscopy related works that are still referred to today in research articles:
'A Flora and Fauna within Living Animals'
Note: Google has begun offering 'full view' scans of books and publications that have come into the public domain and as a result, happily, you can read 'A Flora and Fauna within Living Animals' right here (in "

Smithsonian Contributions to Knowledge", published in 1916).

You don't want to miss the drawings ('plates') at the back (although, these are low res scans).

Also, available at 'The Internet Archive'

here

at much better resolution.
Google comes through again: Here.
See the announcement of Leidy's 'Rhizopods . .' in the 'New Publications' section of the July 1880 issue of 'The Manufacturer and Builder' here.
If you want to own the original book, search for copies on bookfinder.com -- often can be purchased for $25 USD and up.
But, you are welcome to just read it on-line, here. I 'sacrificed' my original 1879 copy of 'Rhizopods' by separating all the pages and plates for scanning. Also, you can download a copy at 'The Internet Archive' here.

You can have access to the full book at the link below -- click on the 'Entrance' graphic.
But, if you just want some highlights, continue below where you can enter and read the book at three key points.
The 'Introduction' to 'Rhizopods', and the 'Concluding Remarks' are fascinating reading, giving many details of Leidy's collecting and study methods as well as interesting insights into his thinking, broad knowledge, and passion for his subject.
The Introduction (Please click on the thumbnail below to start reading at the first page of the 21-page Introduction):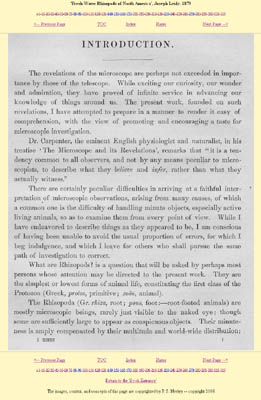 The magnificent Plates & Keys of the book are considered masterpieces of both science and art.
Please click on the thumbnail below to start reading at the 'Plates' thumbnail page. (Note: The 'key' to Plate 1 has an introduction to the plates you'll want to read.)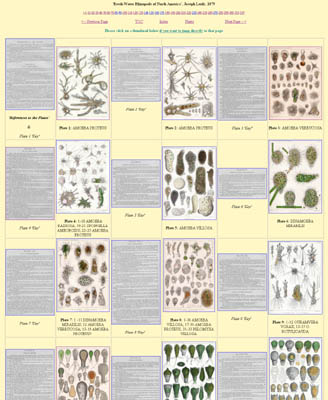 Leidy concludes his great work.
Concluding Remarks (Please click on the thumbnail below to start reading at the first page of the 2-page Conclusion):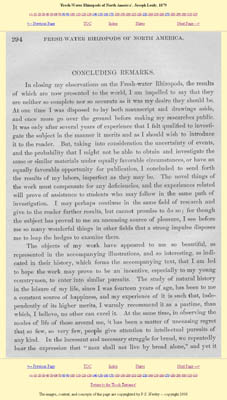 ---
The images, articles, and concepts of this page are copyrighted by P.S. Neeley -- copyright 2006