BIRKIN History - 101 (use the BACK key to return to the cover page)

What single word has the ability to tie these four items together:


Race leader from the 1928 Le Mans 24 hours race,
Colin Chapman, founder of Lotus racing && road cars
Rolls Royce prime competitor, Bentley
and South Africa?

Give up? The word is BIRKIN.

Sir Henry R. S. "Tim" Birkin

In the late 1920's Sir Henry R S "Tim" Birkin, sporting a blue and white spotted silk scarf around his neck, was a familiar sight racing his 3 liter and 4.5 liter supercharged Bentleys at various motor sport tracks in England and on the continent. Although not a factory driver, Tim Birkin was one of the original "Bentley Boys". In 1928, Tim lead the 24 hours of Le Mans race until he was forced into the pits with a stuck throttle. The ensuing problems threatened to destroy his race, but Tim was able to manage a respectable 5th place finish.
Tim chronicled his racing adventures in his book "Full Throttle". Doubtlessly a generation of young automotive enthusiasts were inspired by Sir Henry R. S. "Tim" Birkin's book, just as he had hoped.
Tim Birkin died in 1933, six weeks after driving a privately entered Maserati to third place in the Grand Prix of Tripoli. Midway through that Grand Prix, while he was refueling his Maserati, Tim suffered a minor burn to his arm. The lengthy fuel stop dropped him from 1st to 3rd place overall. However, his minor burn proved to be much more serious. After three weeks the injury refused to heal and Tim's care was placed in the hands of the finest London physicians. Despite their best efforts (in the days before antibiotics) Tim died from blood poisoning in late June, just six weeks after the Grand Prix. Tim Birkin was just 37 years old.

Anthony Colin Bruce Chapman

Colin Chapman was born in 1928, the same year Tim Birkin lead the 24 hour race at Le Mans. In the early 1950's Colin Chapman, at the urging of friends, started selling copies of the small, Goliath beating racing cars that he had been designing and racing since the late 1940's. Chapman's early cars were generally based on the Austin Seven. The 1951 Mark 3 being typical of the breed.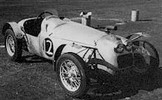 On January 1, 1952, Chapman organized Lotus Engineering and the Lotus legend was born. By 1953 the Lotus Mark 6 was in production as a kit car to avoid the 25% purchase tax on completed cars. The Mark 6 embodied the soul of a Seven. It was light weight at 432kg (950 lbs) with superb handling. After testing the Mark 6 Autocar wrote, "There can be few, if any, cars that are quicker through sharp S-bends."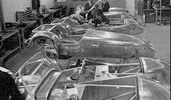 Initially the Mark 7 Lotus did not materialize. Chapman had reserved that number for a Formula 2 race car. Lotus engineering proceeded to design and build the Mark 8, 9, 10 etc. By 1955 production of the Mark 6 ceased production at about 225 cars but the racing public demanded a successor to the Mark 6.
In the spring of 1957 Chapman quickly sketched out the design for the Mark 7 at his home on his kitchen table! By September the car was being tested and entered production the following year. The Mark 7 Series 2 followed in 1960. The Series 2 continued in production until 1966. If you have ever seen a 'real' Lotus Seven, it was likely one of the Series 2 cars.
In 1967 Graham Nearh ordered 20 Lotus sevens with 1600cc Ford cross flow motors and Twin Cam engines. From that order the Super-7 Series 3 was born. Most people agreed that with the power from the Lotus/Ford Twin Cam engine (about 110bhp) this was the best of the Lotus Seven breed. The car continued to evolve and in 1970 the last of the Super 7's, the Series 4's (often referred to as the bath tub or dune buggy Lotus) was offered for sale from the Lotus factory.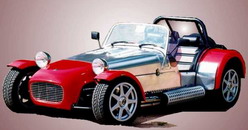 Birkin Cars, Ltd.
Having been named after his famous relative John Birkin Watson founder of BIRKIN Cars of South Africa came by his love of fast, nimble automobiles naturally. Especially his love of the Classic Lotus Super 7 Series 3. And that was the car John wanted. But by this time Colin Chapman's company no longer manufactured the Super-7. In the early 1980's John built his own version of the Lotus Super-7 S3. And like Colin Chapman, John was eventually convinced by his friends to build cars for them.
In 1983 BIRKIN Cars was born. The BIRKIN S3 was officially launched, 50 years after Tim Birkin's death, at the 1983 Formula One Grand Prix of South Africa in Kyalame. The launch was attended by Colin Chapman's widow, Hazel, and the Lotus Formula One team drivers, Nigel Mansell and Elio De Angelis. The build quality was excellent. Many experts consider the BIRKIN S3 the finest of the modern Super-7's. In fact, the initial order for BIRKIN Super-7's were all delivered to Lotus dealers.
By 1988, BIRKIN cars had produced their 200th car. Since that time, 1000's of cars have been produced in South Africa and shipped all over the world. The build quality, design refinements, manufacturing techniques and craftsmanship of BIRKIN cars continues to be nothing short of world class.
Today, BIRKIN Super-7's are produced and sold as component cars. Through your local dealer you can order any of the individual bits and pieces to build your personal Seven. You can order a complete box of parts for a BIY (Built It Yourself) Kit that will allow you to become personally acquainted with each and every nut, bolt and piece of your Seven. You can also order a factory assembled "rolling chassis" completely assembled and including everything you will need for your Seven except the engine and transmission.
BIRKIN History - 101 (use the BACK key to return to the cover page)