Celebrating 50 years of revolutionary modern dance
For 50 years, RDT has pushed the boundaries of modern dance, while preserving and celebrating its legacy. It was radical when Utah modern dancers beat out the big city stalwarts to receive a Rockefeller grant establishing us as the nation's first repertory dance company. Today, we're just as revolutionary as we were in 1966.
Donate today to celebrate our groundbreaking 50th Anniversary season.
Donate Now
Our dancers' stories are just some of many that have come from RDT's 50 year legacy. In this golden anniversary year, we are especially thankful for the myriad alumni, donors, board members and patrons who have made RDT what it is today.
Click here to read our stories, and share your own.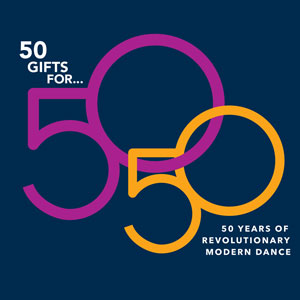 Get Involved
RDT is in need of volunteers year-round for special projects, events, and more!
Help us make our goal of 50 gifts for 50 years by donating a minimum of $1,000.
Our Sponsors
For a full list of our contributors, click here