1823 Assessment Roll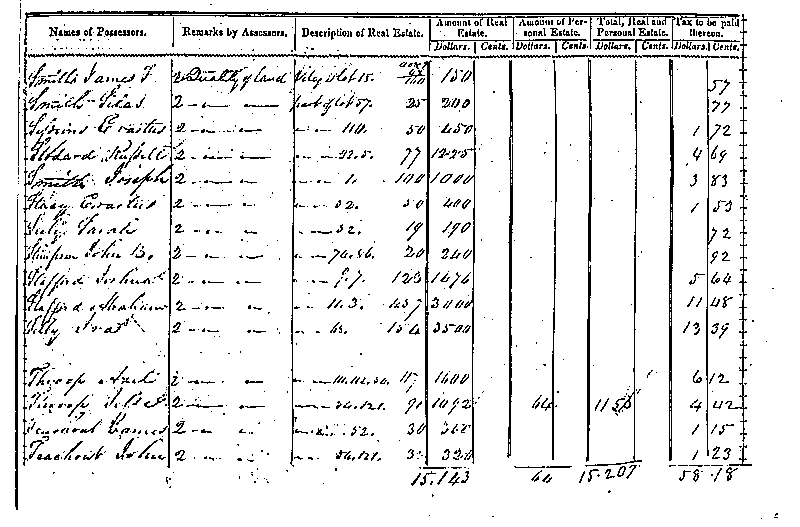 One hundred acres of Lot 1 taxed to Joseph Smith, Sr., for the third time. (From Assessment Roll, Manchester, New York, 24 July 1823; courtesy Ontario County Records Center and Archives, Canandaigua, New York.)
---

This assessment record is important because it helps put into perspective when the Joseph Smith family completed their move to Manchester Township, New York.

About the summer of 1820 (after 22 June 1820) Joseph Smith, Sr. and Alvin Smith entered into an article of agreement to purchase 100 acres in Farmington (Manchester), New York. They were living in a cabin the Township of Palmyra a short distance from the township line prior to April 1820. In April 1822 the Smith family was still living there.

On 2 July 1822 Zachariah Seymour the land agent from whom Joseph and Alvin Smith made purchase arrangements dies. The Smith family completed their move to the 100 acre farm by the spring of 1823. The 24 July 1823 Manchester land assessment record shows that Joseph Smith, Sr. was assessed at $1000. This was in additional value of $300 since the 29 June 1822 assessment.

Improvements made on the Manchester land included clearing the land and building a log home on the property. Lucy Smith, mother of Joseph Smith, Jr., stated that the land agent [Seymour] advised them "to build a log house on the land and commence clearing it[.] we did so" (Dan Vogel, ed., Early Mormon Documents [Salt Lake City: Signature Books, 1996], 1:277-78).

Lucy Smith recorded, "In the spring [1823] after we moved onto the farm we commenced making Mapel [Maple] sugar . . . we then began to make preparations for building a house as the Land Agent of whom we purchased our farm was dead and we could not make the last payment" (Vogel, Early Mormon Documents 1:284-85). Later that year her son Alvin commenced building a frame house on the farm.
---
Close up of 1823 Assessment Record with the name of Joseph Smith [Sr.].
Return to Mormon Origins