1826 Bill of Justice Albert Neely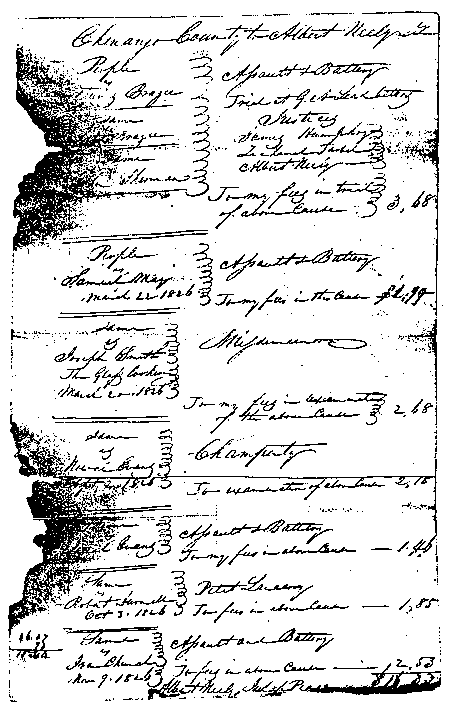 (Courtesy Clerk of the Board of Supervisors, Chenango County Office Building, Norwich, New York. See transcription below.)
---
Transcription of the handwritten 1826 Bill of Justice Albert Neely.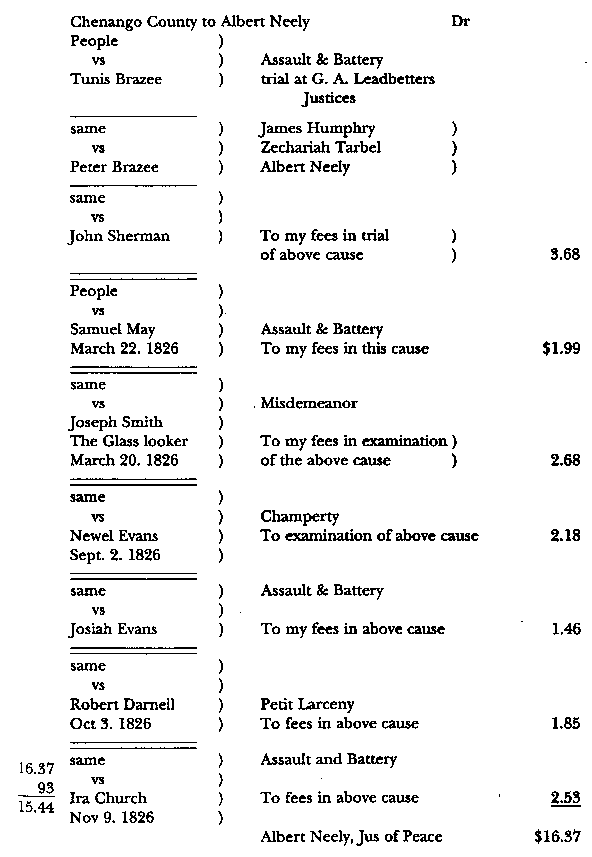 ---
Close up of Albert Neely's handwritten bill listing the Examination of Joseph Smith on 20 March 1826.

---
Early references to Joseph Smith in the role of glass looker:

Abram Benton wrote in 1831 about Joseph Smith's work in the Bainbridge, New York area:

"For several years preceding the appearance of his book [the Book of Mormon], he was about the country in the character of a glass-looker: pretending, by means of a certain stone, or glass, which he put in a hat, to be able to discover lost goods, hidden treasures, mines of gold and silver, &c."
(Letter written by Abram W. Benton of South Bainbridge, New York, dated March 1831, in "Mormonites," Evangelical Magazine and Gospel Advocate 2 (9 April 1831):120, Utica, New York.)

Isaac Hale, Joseph Smith's father-in-law, related in 1834:

"Smith stated to me, that he had given up what he called 'glass-looking,' and that he expected to work for a living, and was willing to do so."
(Affidavit of Isaac Hale, 20 March 1834, in Susquehanna Register, and Northern Pennsylvanian 9 (1 May 1834):1, original newspaper in the Susquehanna County Historical Society, Montrose, Pennsylvania.)
---
Return to Mormon Origins