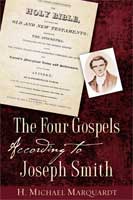 The Four Gospels According to Joseph Smith
by H. Michael Marquardt
6 x 9 433 pages
Footnotes, Bibliography, Illustrations, Index.
Xulon Press
Paperback ISBN 9781604770254 $22.99
Hardcover ISBN 9781604770261 $34.99
---
CONTENTS
Preface
Introduction: Portraits of Jesus
Common Abbreviations
Chronology: Joseph Smith's Bible Revision, 1830-1835
1 Joseph Smith's Bible Revision
2 The Testimony of St. Matthew
3 The Gospel According to St. Mark
4 Luke
5 The Testimony of John
Conclusion
Illustrations
Appendices:
A. Revelations of Joseph Smith on Gospel texts
B. Joseph Smith on Matthew 13
C. Commentary by Joseph Smith on verses in Gospels
D. Words modernized for revision
E. Selected Index to Joseph Smith's additions to the Gospels
Select Bibliography


Biblical Studies


Studies on Joseph Smith's Bible Correction/Revision
Index to the Four Gospels (KJV)
Order at:
Amazon, United States
Amazon, Canada
Amazon, Germany
Amazon, France
Amazon, Japan
Amazon, United Kingdom
Utah Lighthouse Ministry
Xulon Press
Enter name or book title on web page search engine.
---
Joseph Smith, the prophet of Mormonism, had a keen interest in studying the four gospels in his youth. Soon after the Book of Mormon was published, Smith commenced his next major project--revising the Bible. His English revision was based upon the standard text of the day, the King James Version. Smith considered that he could recover wording that had been lost in translation. He made a new version that could be used by the church he organized. The Four Gospels According to Joseph Smith details the words he added and revised. The text is made available for those who have an interest in how Joseph Smith produced his own version of the four gospels.
H. Michael Marquardt is an independent historian and a longtime research consultant of the Latter-day Saints (Mormons). He has been publishing on Mormonism for more than thirty years. He is the author of Joseph Smith's 1828-1843 Revelations and The Rise of Mormonism: 1816-1844, Second Edition, Revised and Enlarged (Maitland, Florida: Xulon Press, 2013).
---
Click on Back button to go to former location.