---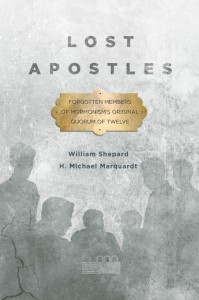 Lost Apostles: Forgotten Members of Mormonism's Original Quorum of Twelve
by William Shepard and H. Michael Marquardt
Hardback 426 pages
Photographs and illustrations,appendixes, bibliography, ndex.
Signature Books
ISBN 978-1-56085-228-5 Price: $35.95
---
CONTENTS
Introduction
1 Discovering Mormonism
2 Missionaries
3 School of the Prophets
4 A Quorum of Twelve Apostles
5 Jostling for Position
6 Collapse of Kirtland
7 The End of Zion
8 The New Twelve, Minus One
9 From Heights to Greater Heights
10 From Prairie to Desert
11 An Endless Search
Final Thoughts on Apostasy and Integrity
photographs and illustrations
appendixes
Newspaper Accounts
Ordinations to the Twelve
bibliography
index
To order, contact Chicago Distribution Center at 800-621-2736
Amazon.com
---

Before the LDS Church was organized, Joseph Smith received a revelation telling him that twelve men would be called as latter-day apostles. Their assignment would be to warn men and women that the end was near. Although the determination of who would fill these positions was delayed for five years, when it finally happened, God reiterated that these men were to "prune the vineyard for the last time" because the Second Coming was nigh. In fact, "fifty six years would wind up the scene," they were told.

Of the twelve men selected, nine would eventually be pruned from the vineyard themselves, to varying degrees. Seven were excommunicated, one of whom was reinstated to his position in the Twelve. Of the other six, the subjects of this book, none returned to the apostleship and four never came back to the Church at all. Those who left faded into obscurity except for when they are occasionally still mentioned in sermons as cautionary tales. But two of them made their marks in other areas of society, John Boynton becoming a successful dentist, a popular lecturer, geologist, and inventor with dozens of important patents to his name, while Lyman Johnson became a prominent attorney and business owner. Even though Luke Johnson, Thomas B. Marsh, William McLellin, and William Smith became religious wanderers and tried unsuccessfully to adjust to life outside of the Church, their experiences were interesting and comprise valuable case studies in belief and disaffection.
---
William Shepard is a past president of the John Whitmer Historical Association. He has published in Dialogue: A Journal of Mormon Thought, the John Whitmer Historical Association Journal, and Journal of Mormon History. He is a leader of the Church of Jesus Christ of Latter Day Saints (Strangite) in the Burlington branch founded by James J. Strang in the 1840s. After he finished his undergraduate and master's degrees in history and served in the U.S. Air Force, he worked as a teacher for the developmentally disabled in Wisconsin for nearly thirty years.
H. Michael Marquardt is an independent historian who has authored such books as The Joseph Smith Revelations: Text and Commentary and (as co-author) Inventing Mormonism: Tradition and the Historical Record. He is the compiler of Early Patriarchal Blessings of the Church of Jesus Christ of Latter-day Saints and its companion volume, Later Patriarchal Blessings of the Church of Jesus Christ of Latter-day Saints. Originally from San Francisco, he retired from the US Postal Service in Sandy, Utah. His lifelong passion has been Mormon history.
---
Click on Back button to go to former location.
---