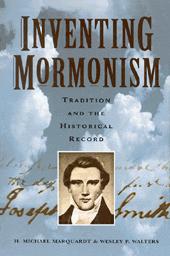 Comments and Reviews
"Michael Marquardt and Wesley Walters bring courage and dedication to Joseph Smith, using extraordinary research to place the man in his family and community. Their hard work and diligent research extract the raw material of good history: the facts. The result is a new and sometimes startling picture of a man who was very much a product of his time and community. Almost all readers will find some of their most cherished myths dismantled by this relentlessly fair and accurate analysis."
WILL BAGLEY, EDITOR, Frontiersman: Abner Blackburn's Narrative
---
"Inventing Mormonism is an insightful reexamination of Mormon origins by two of the top's best-informed interpreters. Readers familiar with previous studies will welcome this collaborative effort to refine and expand our understanding of the early years of the Joseph Smith family and the beginnings of Mormonism."
DAN VOGEL, AUTHOR, Religious Seekers and the Advent of Mormonism
---
"I find this work a worthy contribution to the study of Mormon origins. The documentation is flawless, the style perspicacious, and the overall contents of great interest to students of Mormon history."
RODGER I. ANDERSON, AUTHOR, Joseph Smith's New York Reputation Reexamined
---
"In an arena often mired in apologetics and polemics, Michael Marquardt and Wesley Walters articulate the intricacies of Mormon origins irenically. Inventing Mormonism is a welcome contribution to revisionist history."
BRENT LEE METCALFE, EDITOR, New Approaches to the Book of Mormon: Explorations in Critical Methodology
---
Don LeFevre, LDS church spokesman --
"LeFevre said the church does not want to lend any promotion to the book by commenting on its particular claims. However, the church disagrees with Marquardt's contention about the date of the revival, he said. 'We would take issue with the statement that the revival did not take place in the spring of 1820. We go by Joseph Smith's account,' LeFevre said."
(Story by Keri Goins, Standard-Examiner [Ogden, Utah], 2 July 1994)
---
Individuals comments
"Just a note to tell you how much I like your new book. I like the documentation, the carefulness, the thoroughness, and the tone of it. It sets the scene at Palmyra better than anything I have come across. Congratulations on such a valuable & well crafted piece!"
---
"I enjoyed the book and congratulate you on your short conclusion (one assumes that you have others)--a remarkable model of restraint."
---
"It was meticulously researched and presents a side of Mormon history we seldom hear of. It is a necessary book and hopefully more scholars will follow this trend of open scholarship rather than fearful apologetics. ... Your book (and Walters') is very intriguing and refreshingly open, and as you say the answers are perhaps ultimately a matter of faith, perhaps depending on which way we read the evidence."
---
Reviews
"The authors' research (much of it from primary sources) provides a diverse, detailed but contradictory picture of the early life of Joseph Smith. Their careful exposition of this historical record generally attempts to avoid generalizing about his motives or character, or drawing easy conclusions about his paradoxical beginnings."
(Paul Swenson, Salt Lake Tribune, Salt Lake City, Utah, 3 July 1994, E5)
---
"The authors deserve full credit for their arduous search and for adding new material to the record of Joseph Smith."
(Richard L. Bushman, Review of Books on the Book of Mormon 6/2 [1994]:123)
"All in all, Inventing Mormonism . . . assembles material that has not been a part of the record before, and in good faith offers variant readings of Joseph Smith's history. I [take] exception to the most critical conclusions, but I like the book. I admire the research, and I appreciate the generous, fair-minded tone of the writing."
(Richard L. Bushman, Ibid., 6/2 [1994}:133)
---
"In this meticulously researched and impartially presented reevaluation of the traditional account of the early life of Joseph Smith, Jr., and the New York roots of the Church of Jesus Christ of Latter-day Saints, Marquardt and Walters have produced a masterful work that reads like a fine detective novel. Drawing upon materials generally neglected by previous studies, such as tax records, censuses, and manuscript journals, the authors offer new insights into familiar issues (for example, the relationship between Smith's money digging and the discovery of the golden plates) and occasional surprises (such as relocating the initial organization of the church from Fayette to Manchester, New York). Exceptionally rigorous (though often repetitive) documentation, a revisionist and detailed chronology of Smith family activities from 1817-1832, reproductions and transcriptions of rare documents, and a brief bibliographic essay round out the study. Unfortunately, these supplemental materials are not indexed. Those who are familiar with the canonical versions of the life of Smith and the foundations of Mormonism will find this investigation fascinating and richly suggestive; those engaged in research in this area will find this volume indispensable."
(Rodger M. Payne, Church History 64 [June 1995]:343-44)
---
"This book is a must for anyone involved in the study of the beginnings of The Latter Day Saint movement. The reference notes, appendices, records of recollection of early Latter Day Saints as well as, photographs of actual documents will provide invaluable sources of information to anyone involved in historical research."
(Gerald John Kloss, Journal of Latter Day Saint History 9 [1997]:53)
---
"While Inventing Mormonism refrains from making theological judgments, the authors have done more than merely chronicle historical events. They have attempted to provide a broad, genuine account of the early life of Joseph Smith, the Book of Mormon and the origins of the LDS church. Their quest for the facts has resulted in a book which will become an important source for those who want their history, and their faith, grounded in truth."
(Joel B. Groat, Institute for Religious Research, Heart and Mind: The Newsletter of Gospel Truths Ministries [January-March 1997]:6)
---
Return to Mormon Origins