Photo's of "Fugu" sailing!
Below are some photographs of "Fugu", my new love, sailing. Where I know the photographer, I'll give credit. If you see one you took and I did not give proper credit, pleas e-mail me and I'll correct it as quickly as possible.
Fugu has been one of my most fun projects I have ever done. Building her was a lot of fun and sailing her has been more fun than I thought. For many years I have wanted to sail this style of boat. The first time I saw a movie of an Ausie 18, I wanted to sail one. Fugu has given me as close as I can come to this experience as I can afford. I'd still love to sail on an 18 some day but I don't live in an area where there are any and I can't afford one. With it being so hard to find crew for either a dinghy or my "leadmine", dinghy speak for keel boats, I needed a good single handed boat.
When I saw the article in "Wooden Boat" I told myself I had to make one of these. I think a month or so after reading and re reading the article, I started milling strips and purchased plans from Bram. I liked the fact that the Swift Solo has a jib and all the new high performance goodies. The MPS looked interesting but I prefered the three sails and I could have double the fun by building the boat too.
I have been suprised that after almost 20 years since my last time on my 505, I could still manage a trap boat and was able to be reasonably fast in some conditions. This boat has been a dream to sail and I can't get enough. I still need a lot of work on sail handling and learning the gybe angles and what is fast with an asymetric spinnaker. Learning is part of the fun for me so no down sides so far.

This is a photo of my maiden voyage the day after the christening. It snowed about four inches the day of her christening and it was a bit hazy the next day. It was a good thing that the wind was light because it was the end of January of 2004 and I did not put any non skid on the boat and it was slick as a greased pig. rigth away I was suprised at how fast this boat is in just a little wind and how much the aparent wind shifts when the kite fills and the boat takes off. Oh and I know my form is tragic. Remember this is my first time in a dinghy for about fifteen years and first ever in a skiff.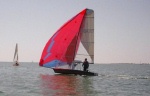 This is a photo. taken by Ken Brandon at the first Swift Solo mid winters in Ft. Desoto Florida. The funny thing is that the race day was my third time sailing Fugu. I went to the regatta not with idea of winning anything but to see other boats and to be part of the first regatta. I had a great time and learned a lot. I was amazed at how fast I was able to catch on and also amazed that I did not swim more than I did. I did have a nasty habit for teabagging and on one of the practice days, I was able to save one after laying in the water for qite some time waiting for the wind to water start me.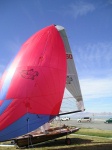 I took this photo after one of my spring sailing days out at Great Salt Lake while the boat was drying out from her bath. This was one of the first times I had the boat out after putting the graphics on. Now she looks more like a skiff. Kids seem to realy like the fish on the sail. I am always amazed at how much sail this boat has when I put them all up and wald around the boat. It doesn't look like that mush while I'm sailing but I can't see it all either.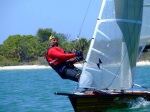 This is the "money" shot taken, I think, by Roxanne(sorry I don't know the last name), durring one of the practice sessions. I think shortly after this shot was taken, I dodged into the mark almost plowing through the wake of the photo boat just off Kris Henderson's stern. It almost caused a pile up because Kris parked a bit when he put up the kite and the photo boat backed off the throttle.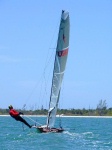 This is a photo I think taken by Roxanne of me on one of the practice days at the 2006 North Americans. The weather was qite warm, mid 80's F and very sunny every day. It was much cooler on the water than on the beach and any day sailing is of course a good day and sailing these little boats turns them into fantastic days. Note that my form still needs a bit of work but it is getting much better.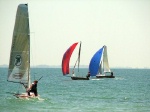 Another practice day shot. You can see Bram, no spinnaker, checking his rig for something. I have the red kite and you can see Ron Watt close behind.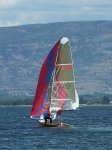 My lovely daughter Katie took this one of me just after a gybe. I took the skiff, sailboards, and kids up to Deer Creek, on of my favorite local hot spots. The kids have fun playing with the sailboards while I was having fun chasing down my freind and his son in an FD and showing the catamarans that they weren't the only fast sailboats on the water. This day is one of the first days I have been able to gybe back and forth without teabagging, pulling the boat over to weather on top of you, in some breeze since I started sailing Fugu.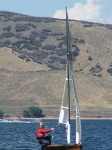 Katie also took this shot of me coming in for a break. It looks to me like I could have used a little more vang but it is still a good photo.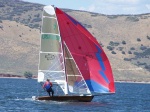 Katie caught this nice shot as I went flying past the beach on a good three sail reach. This is what sailing was meant to be.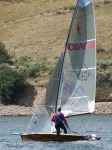 Here is a shot of me sailing up on port tack again taken by Katie. It was a bit puffy and marginal for me to trap going to weather. I am a bit larg at close to 230 pounds but I still have a great time. If I can get out on the wire going to weather, this boat smokes.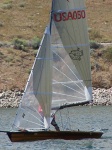 One last shot by Katie of me on starboard tack. I should probably be a little farther forward but with how puffy it was, I'd end up getting caught in the shrouds a lot and it would become more like work than fun.
That is all I have for now that adds much. If I get more good shots, I'll add them to the site.
If you have any comments or questions contact me at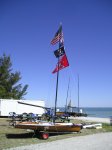 and I'll try to get back with you as soon as possible.