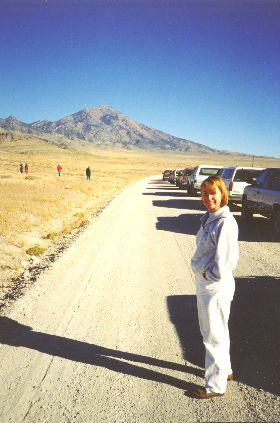 Photograph: Steve Berlin
Made 10/18/97 at Crossroads kiosk site, ~20 miles North of Wendover, UT.
View looking north, just inside Nevada. The fifteen cars in the caravan stop and their occupants visit the site where Utah Crossroads Chapter will erect an interpretive kiosk describing the significance of this area in trails history. Jan Maynard is seen here with Pilot Peak, beacon to emigrants crossing the great Salt Desert in the background.
[ Return to Field Day Exhibit ]
[ Return to Gallery ] [ Crossroads Home ]
Photographs may not be used without permission of their copyright owners.
Original content copyright © 1997-2001 by
Utah Crossroads Chapter, Oregon-California Trails Association. All rights reserved.
Site design by Steven L. Berlin
E-mail regarding this site: Utah Crossroads Webmaster
Revised: 10/25/04