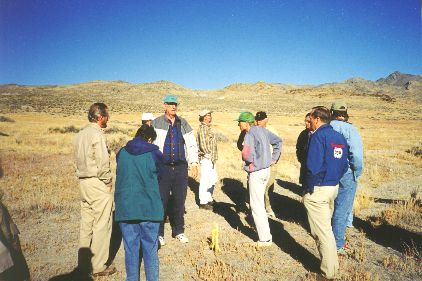 Photograph: Steve Berlin
Made 10/18/97 at Crossroads kiosk site, ~20 miles north of Wendover, UT.
View looking west. Roy Tea, our field trip guide, talks to the group. On this site located in Nevada a few miles south of Donner Spring, Utah, the Crossroads Chapter will erect an interpretive kiosk to educate the public about this significant section of trail. The trace that traverses the photograph from right to left was pioneered by the Bidwell-Bartelson Party of 1841 the first overland emigrants to California, is the road taken by the Donner Party and others in 1846 and by at least hundreds of argonauts bound for California during the Gold Rush years of 1849-50.
[ Return to Field Day Exhibit ]
[ Return to Gallery ] [ Crossroads Home ]
Photographs may not be used without permission of their copyright owners.
Original content copyright © 1997-2001 by
Utah Crossroads Chapter, Oregon-California Trails Association. All rights reserved.
Site design by Steven L. Berlin
E-mail regarding this site: Utah Crossroads Webmaster
Revised: 10/25/04