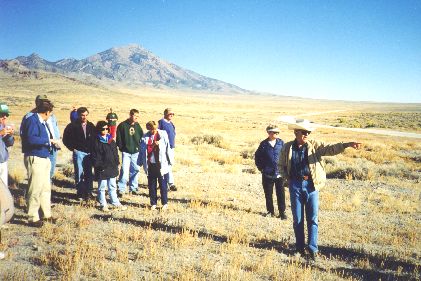 Photograph: Steve Berlin
Made 10/18/97 at Crossroads kiosk site, ~20 miles North of Wendover, UT.
View looking north, Pilot Peak in the background. Al Mulder, at the site of the coming Utah Crossroads Chapter interpretive kiosk, points to important trail landmarks including nearby Bidwell pass.
[ Return to Field Day Exhibit ]
[ Return to Gallery ] [ Crossroads Home ]
Photographs may not be used without permission of their copyright owners.
Original content copyright © 1997-2001 by
Utah Crossroads Chapter, Oregon-California Trails Association. All rights reserved.
Site design by Steven L. Berlin
E-mail regarding this site: Utah Crossroads Webmaster
Revised: 10/25/04