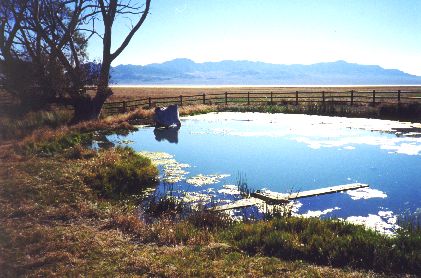 Photograph: Steve Berlin
Made 10/18/97 , ~22 miles North of Wendover, UT.
This is Donner Spring, life-giving font to many struggling emigrant trains on the Hastings Road. View looking southeast. In conjunction with the 1994 OCTA convention in Salt Lake City the Utah Crossroads Chapter fenced the spring to protect its natural and historic values, erecting several panels that describe the life-saving importance of these waters for people and animals that made it across the arid 83 mile expanse of salt desert to the east, a portion of which is the sliver of white just below the distant mountain.
[ Return to Field Day Exhibit ]
[ Return to Gallery ] [ Crossroads Home ]
Photographs may not be used without permission of their copyright owners.
Original content copyright © 1997-2001 by
Utah Crossroads Chapter, Oregon-California Trails Association. All rights reserved.
Site design by Steven L. Berlin
E-mail regarding this site: Utah Crossroads Webmaster
Revised: 10/25/04