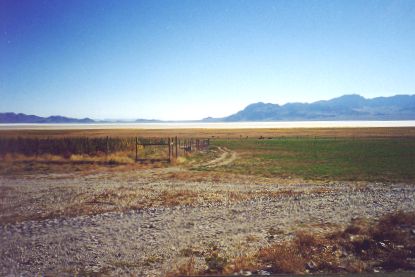 Photograph: Steve Berlin
Made 10/18/97 , just east of Lucin, UT.
These salt flats east of Donner Spring, 8-10 miles wide, were the last great, dry barrier on the Long Drive to be crossed before reaching sweet water. Far out on the salt, flagging, stuporous animals could sometimes smell the distant water for miles and had to be restrained from running toward the salvation they sensed. Exhausted and suffering men, women and children who had made the crossing finished these last miles with renewed hope. From Donner Spring many returned across the salt bearing water to slake the thirst of struggling comrades and animals and sometimes to save their lives.
[ Return to Field Day Exhibit ]
[ Return to Gallery ] [ Crossroads Home ]
Photographs may not be used without permission of their copyright owners.
Original content copyright © 1997-2001 by
Utah Crossroads Chapter, Oregon-California Trails Association. All rights reserved.
Site design by Steven L. Berlin
E-mail regarding this site: Utah Crossroads Webmaster
Revised: 10/25/04