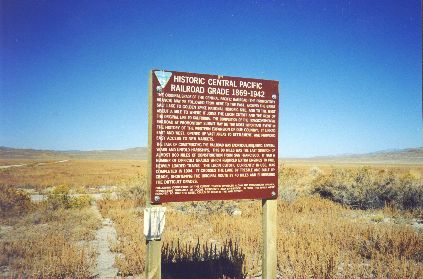 Photograph: Steve Berlin
Made 10/18/97 , just east of Lucin, UT.
The major purpose of our Fall outing was to drive more than 90 miles of roadbed from the original Transcontinental Railroad, visiting historic sites along the way. The sign at the western terminus of the driveable section, made mostly obsolete for railroad use in the early part of the century says:
HISTORIC CENTRAL PACIFIC
RAILROAD GRADE 1869-1942
THE ORIGINAL GRADE OF THE CENTRAL PACIFIC RAILROAD (THE PROMONTORY BRANCH) MAY BE FOLLOWED FROM HERE TO THE EAST, AROUND THE GREAT SALT LAKE TO GOLDEN SPIKE NATIONAL HISTORIC SITE, AND TO THE WEST ABOUT A MILE TO WHERE IT JOINS THE LUCIN CUTOFF AND THE REST OF THE ORIGINAL LINE TO CALIFORNIA. THE COMPLETION OF THE TRANSCONTINENTAL RAILROAD AT PROMONTORY SUMMIT MAY BE THE MOST IMPORTANT EVENT IN THE HISTORY OF THE WESTWARD EXPANSION OF OUR COUNTRY. IT LINKED EAST AND WEST, OPENED UP VAST AREAS TO SETTLEMENT, AND PROVIDED EASY ACCESS TO NEW MARKETS.

THE TASK OF CONSTRUCTING THE RAILROAD WAS ENORMOUS REQUIRING SEVERAL YEARS AND UNTOLD HARDSHIPS. THIS 90 MILES WAS THE LAST STRETCH OF ALMOST 800 MILES OF CONSTRUCTION FROM SAN FRANCISCO. IT HAD A NUMBER OF DIFFICULT GRADES WHICH REQUIRED EXTRA ENGINES TO PULL HEAVILY LOADED TRAINS. THE LUCIN CUTOFF, CURRENTLY IN USE, WAS COMPLETED IN 1904. IT CROSSES THE LAKE BY TRESTLE AND BUILT UP GRADE, SHORTENING THE ORIGINAL ROUTE BY 40 MILES AND ELIMINATING THE DIFFICULT GRADES.

FOLLOWING COMPLETION OF THE CUTOFF, TRAFFIC DWINDLED ON THE PROMONTORY BRANCH, CONSISTING PRIMARILY OF LOCAL RESIDENTS AND LIVESTOCK. IN 1942, THE RAILS WERE REMOVED SO THE STEEL COULD BE USED IN THE WAR EFFORT.
[ Return to Field Day Exhibit ]
[ Return to Gallery ] [ Crossroads Home ]
Photographs may not be used without permission of their copyright owners.
Original content copyright © 1997-2001 by
Utah Crossroads Chapter, Oregon-California Trails Association. All rights reserved.
Site design by Steven L. Berlin
E-mail regarding this site: Utah Crossroads Webmaster
Revised: 10/25/04