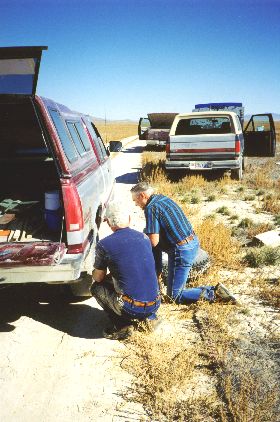 Photograph: Steve Berlin
Made 10/18/97 , just east of Lucin, UT.
No sooner had we started along the old roadbed when crackling over the CB came the message, "Flat tire!" We'd been warned about the possibility that old spikes from the railway could still be lying about and could puncture a tire with ease, but we weren't prepared for how many flat tires we would have and just how devastating most of the punctures were. Before the day was out our group of 15 vehicles had experienced 8 flats! The damage was so great that in most cases treads and sidewalls were shredded making repair of the tires impossible.
In this picture Al Mulder goes to work after stopping for someone else's flat and finding one of his own tires was leaking too. Al's was the gentlest of the day's flats - most were blowouts.
[ Return to Field Day Exhibit ]
[ Return to Gallery ] [ Crossroads Home ]
Photographs may not be used without permission of their copyright owners.
Original content copyright © 1997-2001 by
Utah Crossroads Chapter, Oregon-California Trails Association. All rights reserved.
Site design by Steven L. Berlin
E-mail regarding this site: Utah Crossroads Webmaster
Revised: 10/25/04