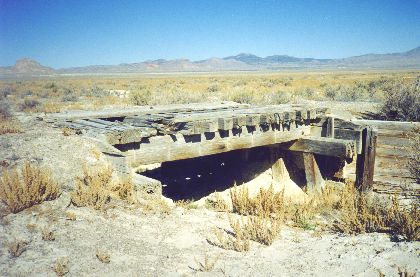 Photograph: Steve Berlin
Made 10/18/97 about ten miles east of Lucin, UT.
Numerous wooden trestles are found along the grade to bridge the many washes that conduct the usually sparse but occasionally torrential rains from the semi-desert flatlands toward the Great Salt Lake. Most are not original construction but replacements installed around the turn-of-the-century. The trestles are not considered safe to support automobiles so modern-day travelers along the old railbed must detour around them. View looking generally north.
[ Return to Field Day Exhibit ]
[ Return to Gallery ] [ Crossroads Home ]
Photographs may not be used without permission of their copyright owners.
Original content copyright © 1997-2001 by
Utah Crossroads Chapter, Oregon-California Trails Association. All rights reserved.
Site design by Steven L. Berlin
E-mail regarding this site: Utah Crossroads Webmaster
Revised: 10/25/04