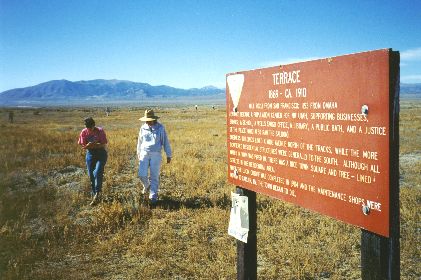 Photograph: Steve Berlin
Made 10/18/97 at Terrace, UT about 25 miles east of Lucin, UT
Looking approximately north. Terrace is west of Promontory Summit where the Central Pacific rails from the west joined the Union Pacific rails from the east. It was the maintenance and repair headquarters for the CPRR for its Salt Lake Division which encompassed the road from Wells, Nevada to Ogden, Utah. Though railroad use ended by about 1910, in its heyday Terrace not only boasted extensive railroad facilities including a full roundhouse but perhaps 1,000 inhabitants. Nine-tenths of the workers who built the CPRR were Chinese and estimates run as high as 500 such residents of Terrace at one time.
No structures remain at the site and like all the railroad installations along the grade Terrace has been extensively looted by bottle and artifact hunters. Deep holes dug by these vandals pit the landscape in every direction. Although artifacts remain, with the area now under active historic preservation management by the BLM and with the involvement of a concerned public, such depredations have decreased considerably in recent years.
The sign says:
TERRACE
1869 - CA, 1910
MILE 702.1 FROM SAN FRANCISCO; 1153 FROM OMAHA
TERRACE BECAME A POPULATION CENTER FOR NW UTAH, SUPPORTING BUSINESSES, STORES, A SCHOOL, A WELLS FARGO OFFICE, A LIBRARY, A PUBLIC BATH, AND A JUSTICE OF THE PEACE (WHO ALSO RAN THE SALOON).
BUSINESS BUILDINGS LINED A WIDE AVENUE NORTH OF THE TRACKS WHILE THE MORE SCATTERED RESIDENTIAL STRUCTURES WERE GENERALLY TO THE SOUTH. ALTHOUGH ALL WATER IN TOWN WAS PIPED IN, THERE WAS A NICE TOWN SQUARE AND TREE - LINED STREETS IN THE RESIDENTIAL AREA.
WHEN THE LUCIN CUTOFF WAS COMPLETED IN 1904 AND THE MAINTENANCE SHOPS WERE MOVED TO CARLIN, NV, THE TOWN BEGAN TO DIE.
[ Return to Field Day Exhibit ]
[ Return to Gallery ] [ Crossroads Home ]
Photographs may not be used without permission of their copyright owners.
Original content copyright © 1997-2001 by
Utah Crossroads Chapter, Oregon-California Trails Association. All rights reserved.
Site design by Steven L. Berlin
E-mail regarding this site: Utah Crossroads Webmaster
Revised: 10/25/04