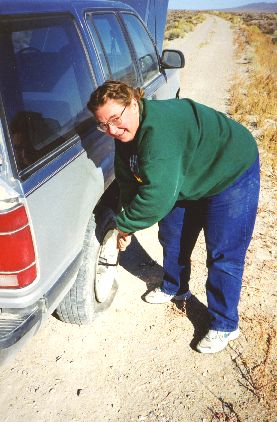 Photograph: Steve berlin
Made 10/18/97 a few miles east of Terrace, UT.
Don't let the smile for the camera fool you. Flat tires were no fun. Everyone was impressed at how destructive the rips caused by the big railway spikes were. In the dust and poor contrast, drivers in our caravan could see only a small fraction of the spikes in the road. We met and talked with travelers coming the other way on low-to-the-ground, all-terrain vehicles. From their closer perspective on the road they were able to profess amazement at the number of spikes they were seeing along the route. The problem might have been recent grading along the old railbed. Our BLM guide makes several trips annually across the grade and could remember having only one flat tire over a several-year period.
[ Return to Field Day Exhibit ]
[ Return to Gallery ] [ Crossroads Home ]
Photographs may not be used without permission of their copyright owners.
Original content copyright © 1997-2001 by
Utah Crossroads Chapter, Oregon-California Trails Association. All rights reserved.
Site design by Steven L. Berlin
E-mail regarding this site: Utah Crossroads Webmaster
Revised: 10/25/04